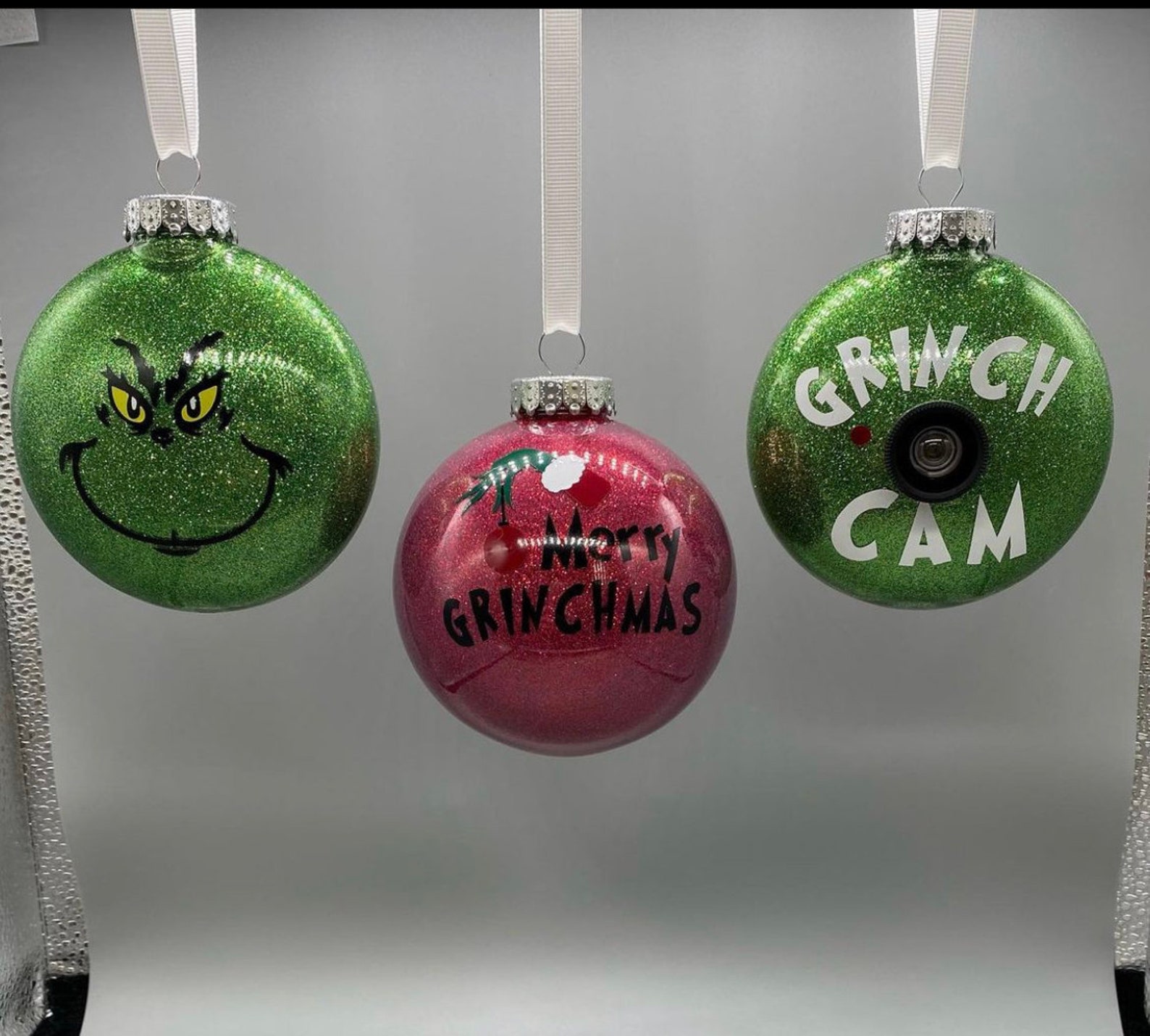 Merry Grinchmas! Add some Christmas cheer from your favorite Cheer Meister!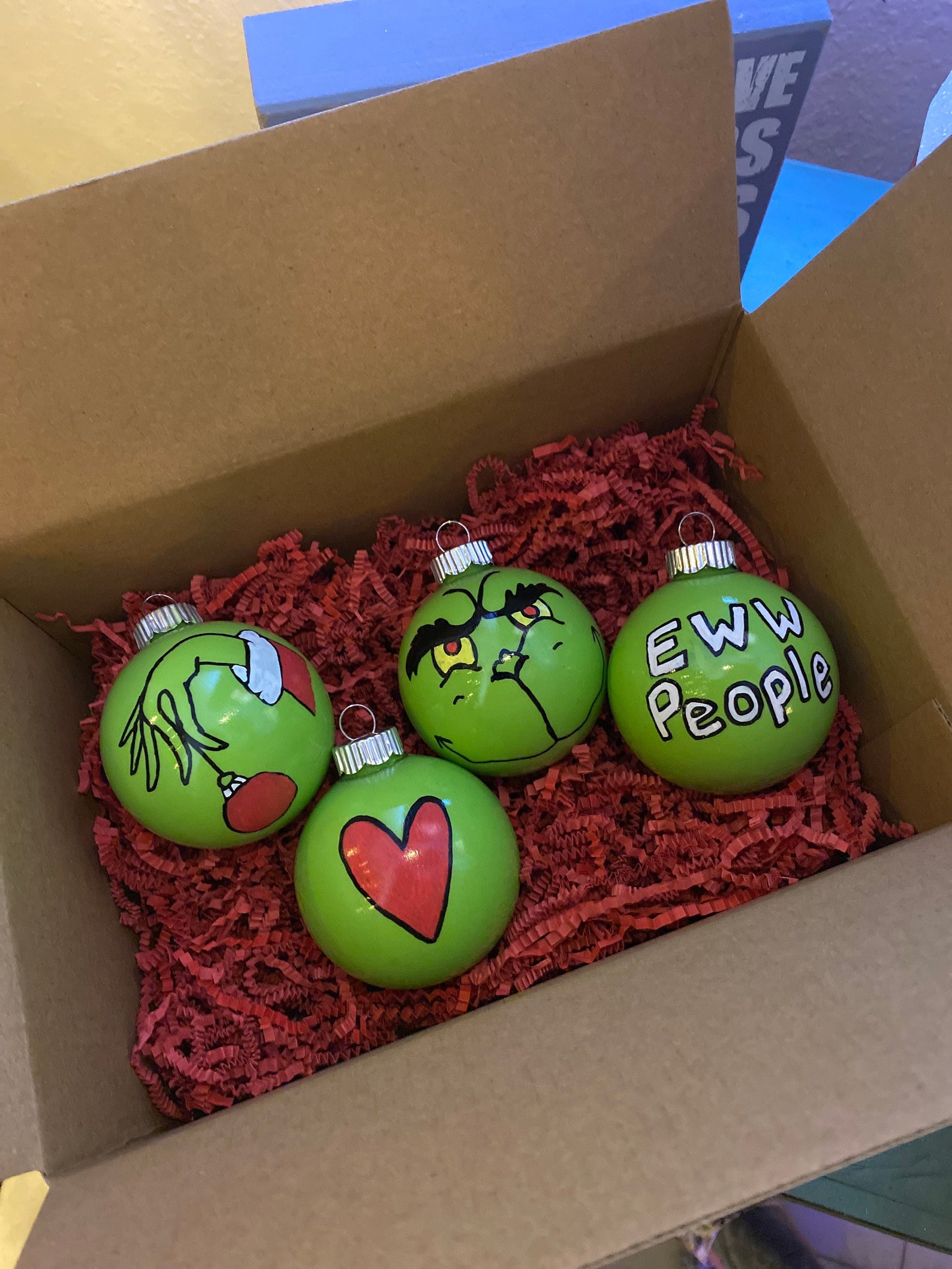 Handmade
Height: 1 inches
Width: 1 inches
Depth: 1 inches
Description
Grinch Christmas Ornaments very cute and unique for your tree. Set comes with 4 ornaments. Each ornament is hand painted and can be customized.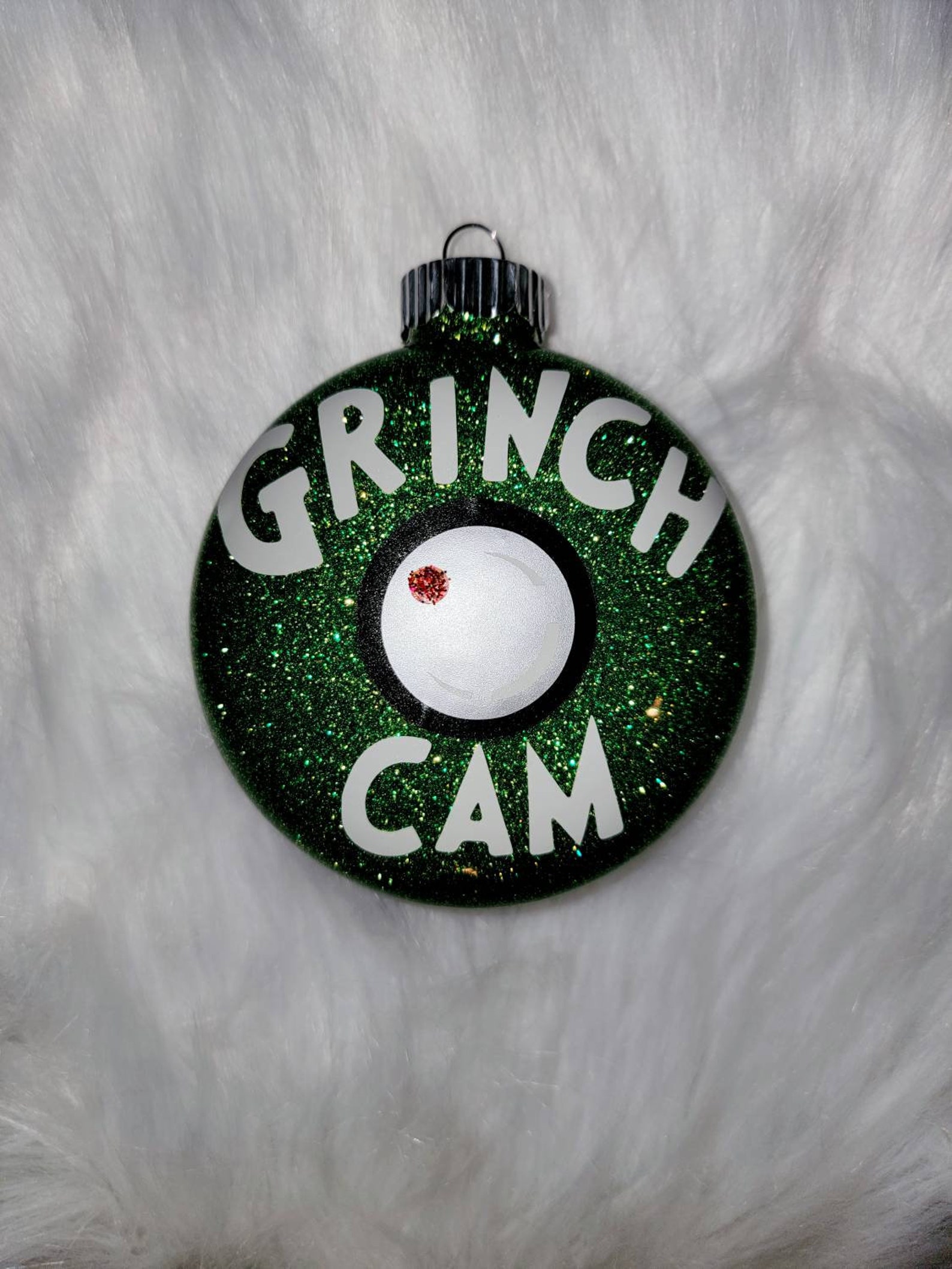 Grinch Cam
Even while in Whoville he has his eye on the kiddos who are being naughty or nice.
Great addition to any family Christmas tree .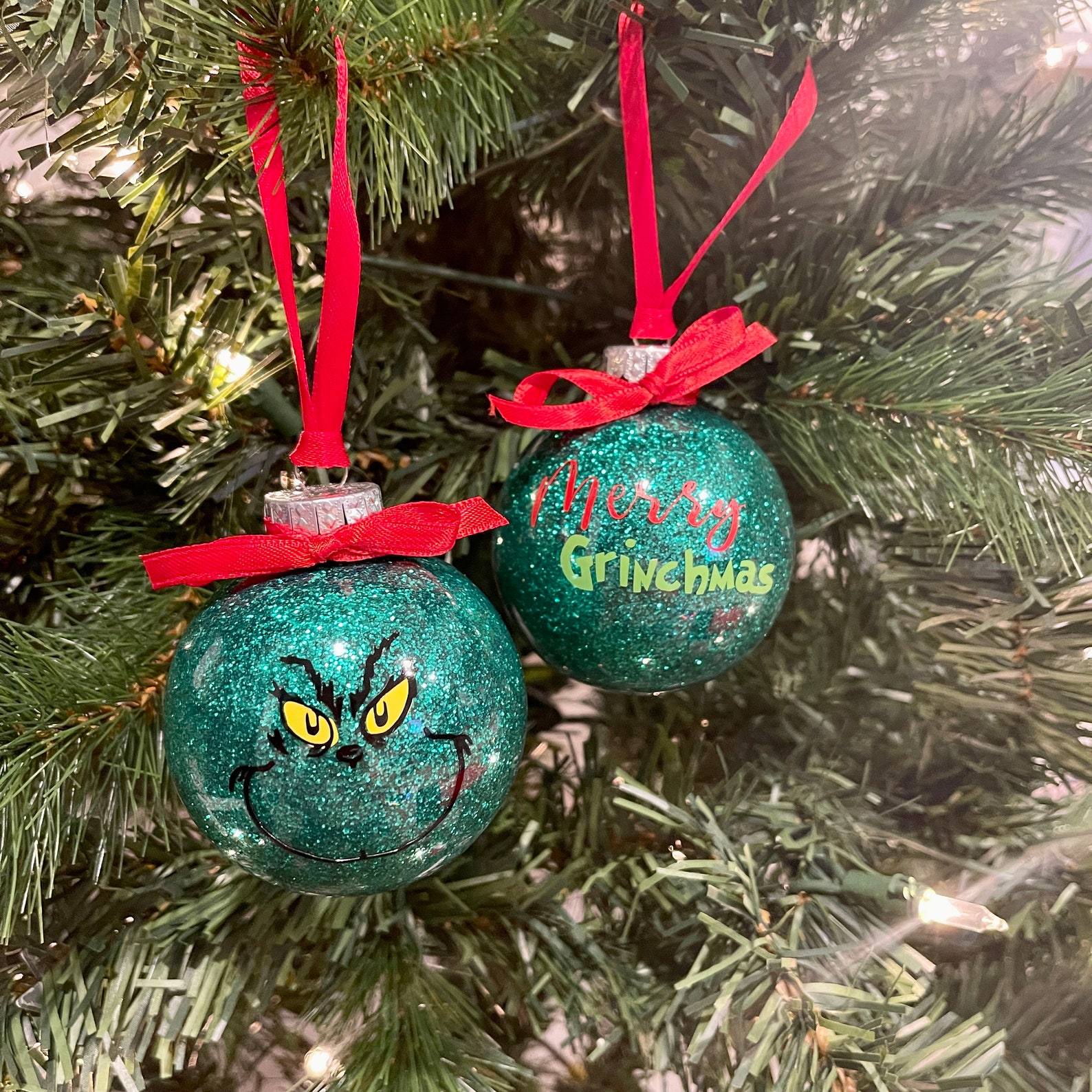 The Grinch Ornament Set | The Grinch
A set of 2 non-breakable Christmas ornaments featuring the Grinch's face on one and Merry Grinchmas on the second! 3 inches tall, approximately 8.25 inches in circumference. Filled with sparkly green glitter and hand applied permanent vinyl designs.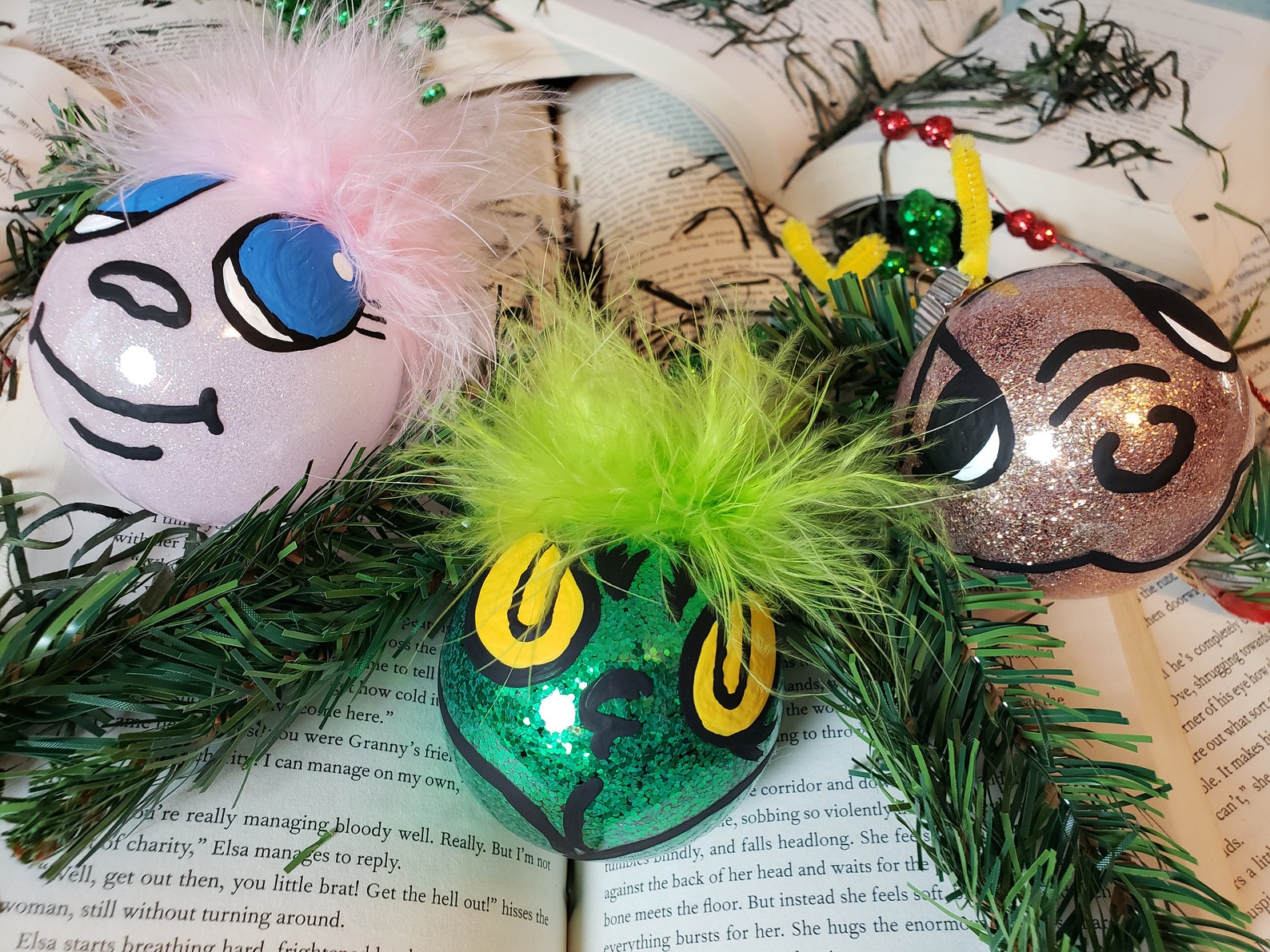 How the Grinch Stole Christmas Ornaments – Set of 3
Handmade
Materials: Plastic Ornament, Glitter, Polyurethane, Acrylic Paint, Pip Cleaners, Boas
Height: 2.5 inches
Maximum width: 2.5 inches
Description
Handcrafted/Hand-painted How the Grinch Stole Christmas Ornaments! These grinchy ornaments are made with clear plastic ornaments filled with green, pick, or bronze glitter with hand-painted faces of the Grinch, Cindy Lou Who, and Max the dog.
These Grinch ornaments are sold at $15.00 for the full set of three ornaments – the Grinch, Cindy Lou Who, and Max. (Ornaments cannot be split up – must be sold as a set.)
These ornaments are approximately 2.5 x 2.5 inches in height/width. (Max has an antler which makes his ornament a little taller) As these ornaments are hand-painted, each ornament may appear slightly different than those pictured – but not by much. 😉
We use water-based paint – we do not recommend submerging in water or washing.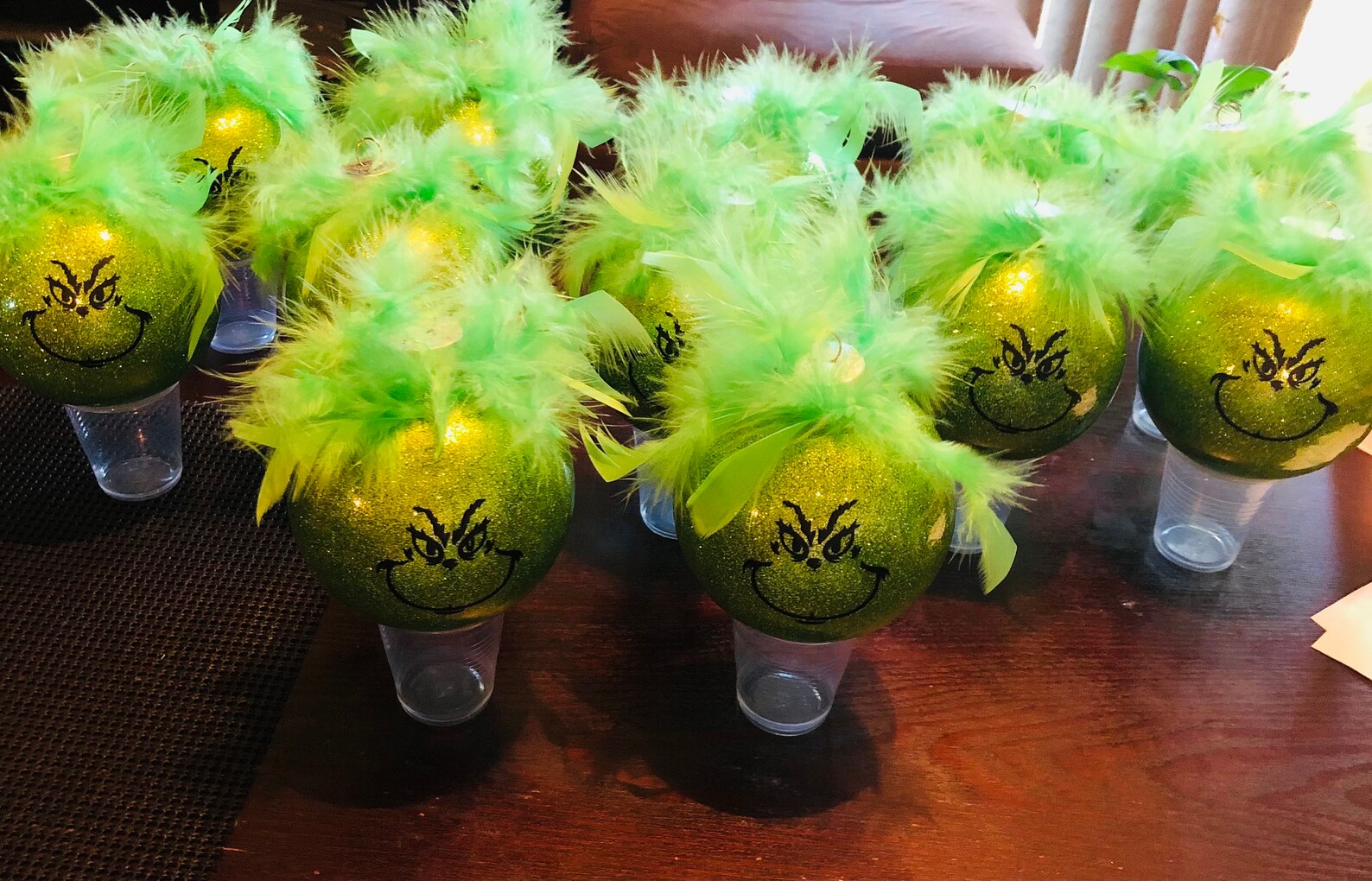 Handmade grinch ornaments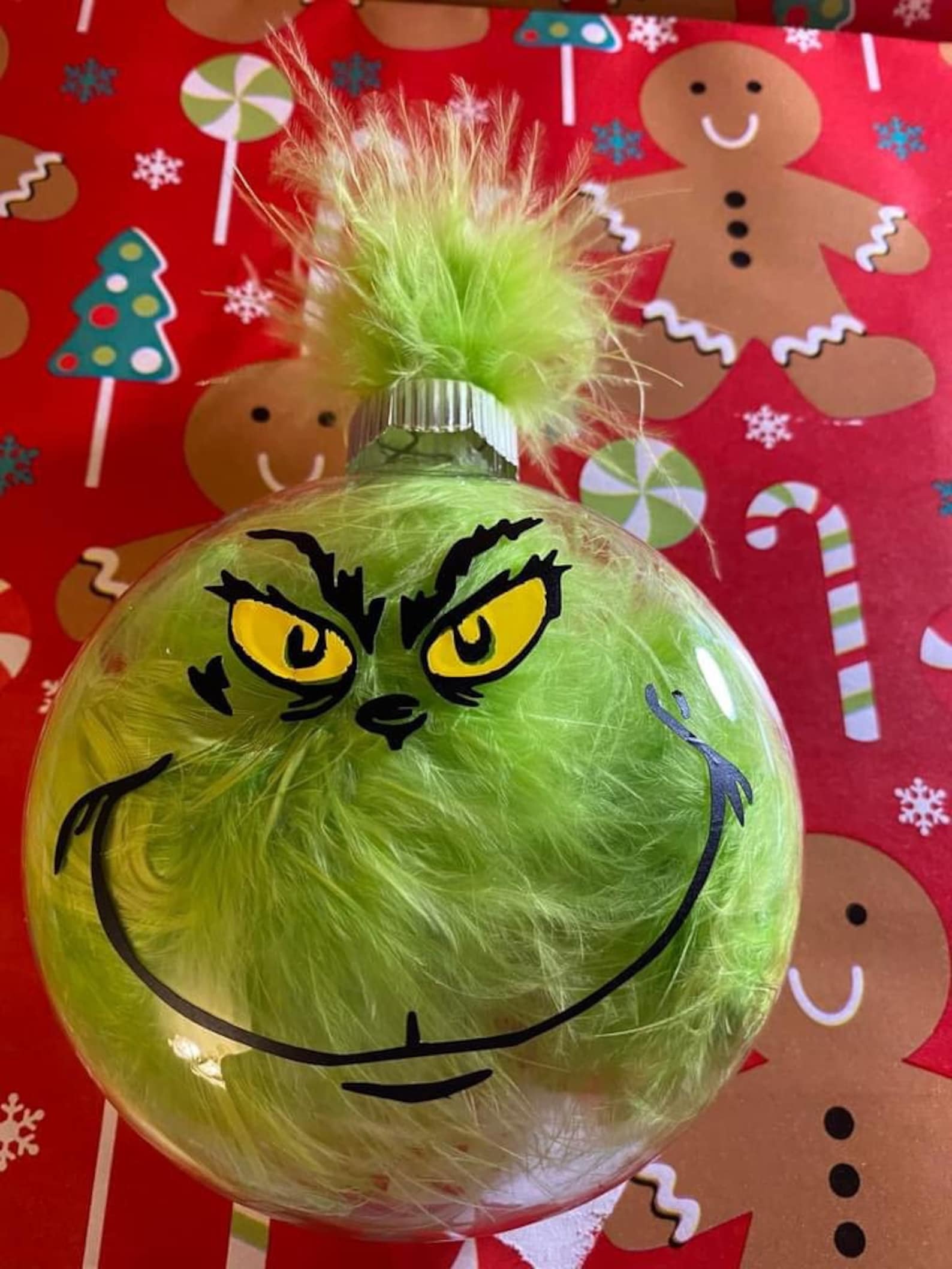 Grinch Ornament can add a name and date

Grinch Ornament can add a name and date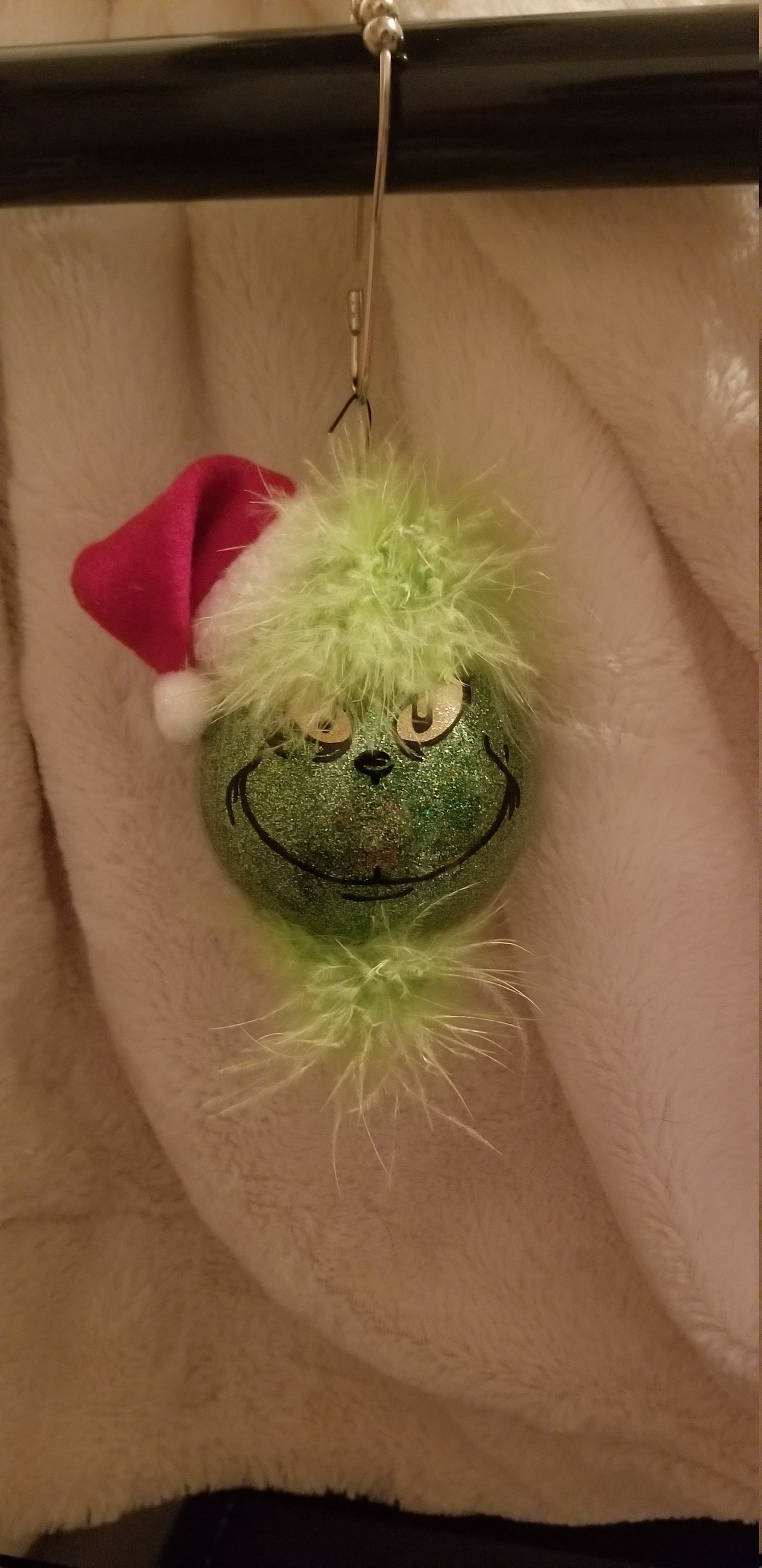 Handmade
Height: 3.27 inches
Width: 3.27 inches
Depth: 3.27 inches
Description
3.27 inch Handmade Green Grinch Ornament.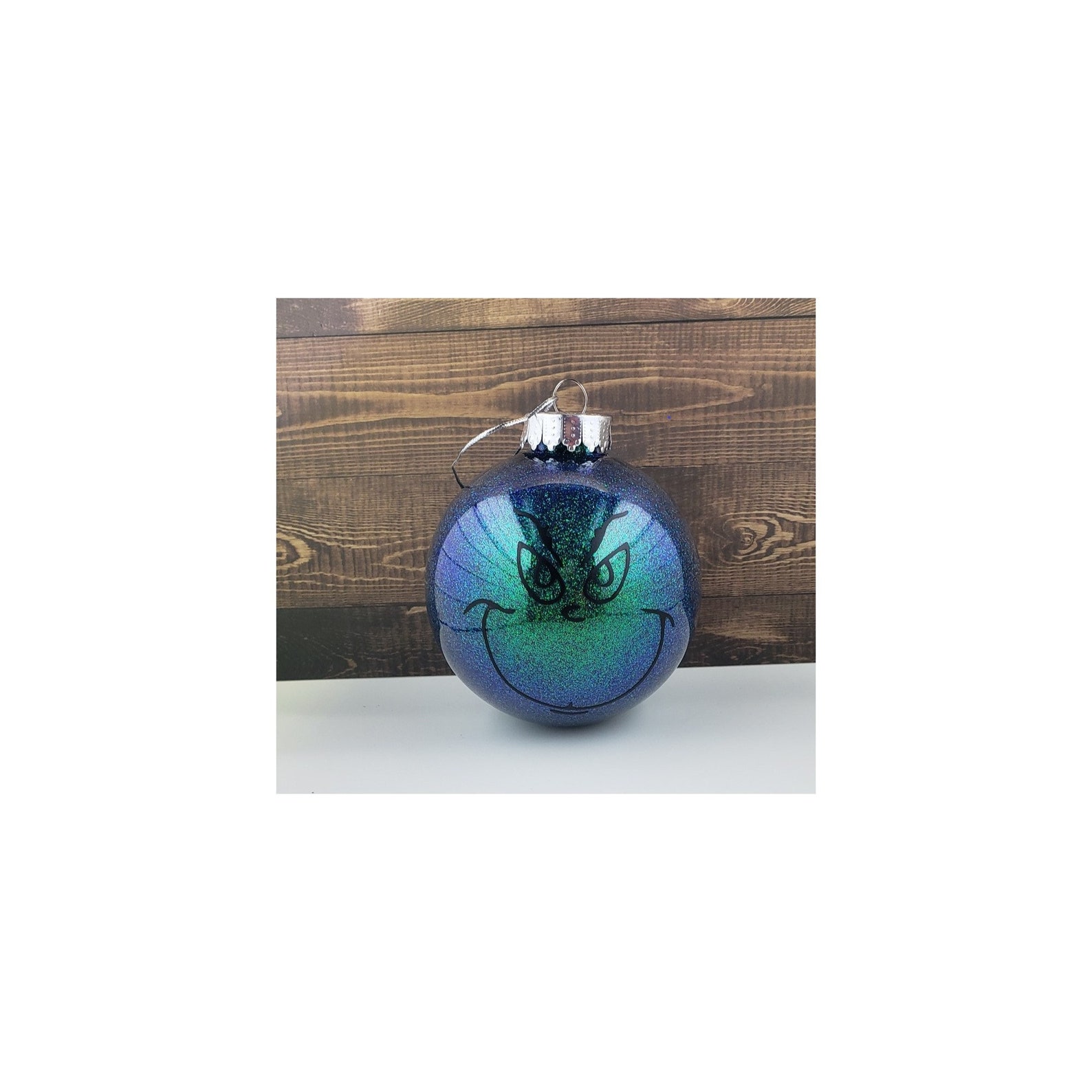 Your A Mean One Mr. Grinch Christmas Ornament

Great Gift for Family, Friends, & Co-workers
This ornament can have name, initials or a fun saying as in "Baby"s 1st Christmas" or "1st Christmas together".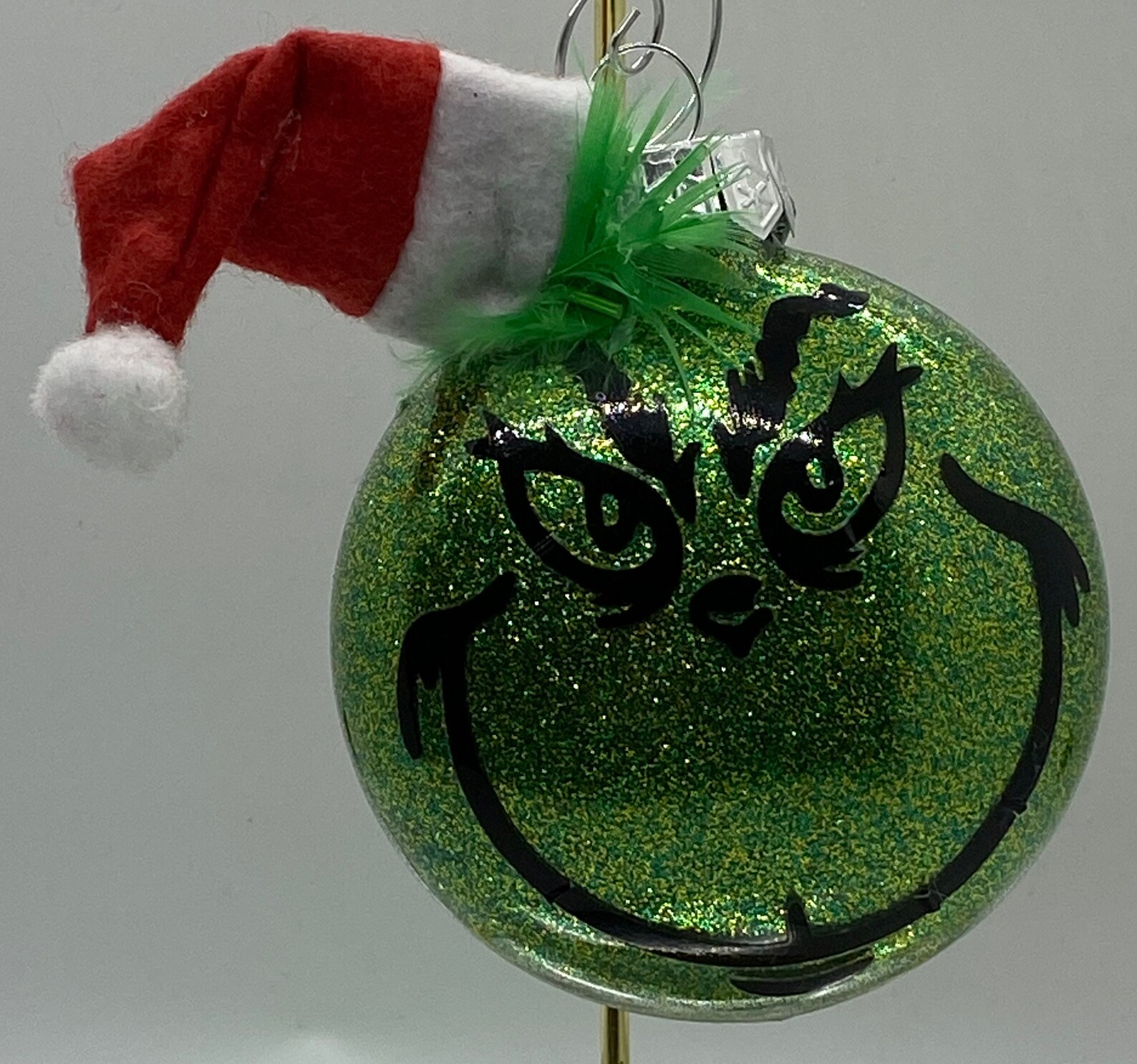 The Grinch glittered ornament with Santa Hat

Handmade
Height: 3.5 inches
Width: 3.5 inches
Depth: 1 inches
Description
Delight your children or grandkids with this custom Grinch-inspired Christmas ornament. These Ornaments are SHATTERPROOF. The dimensions are 3.5: round disk by 1" deep, and decorated with fine glitter in lime green with lime green hair and a Santa hat. The ornaments cap is glued shut for safety.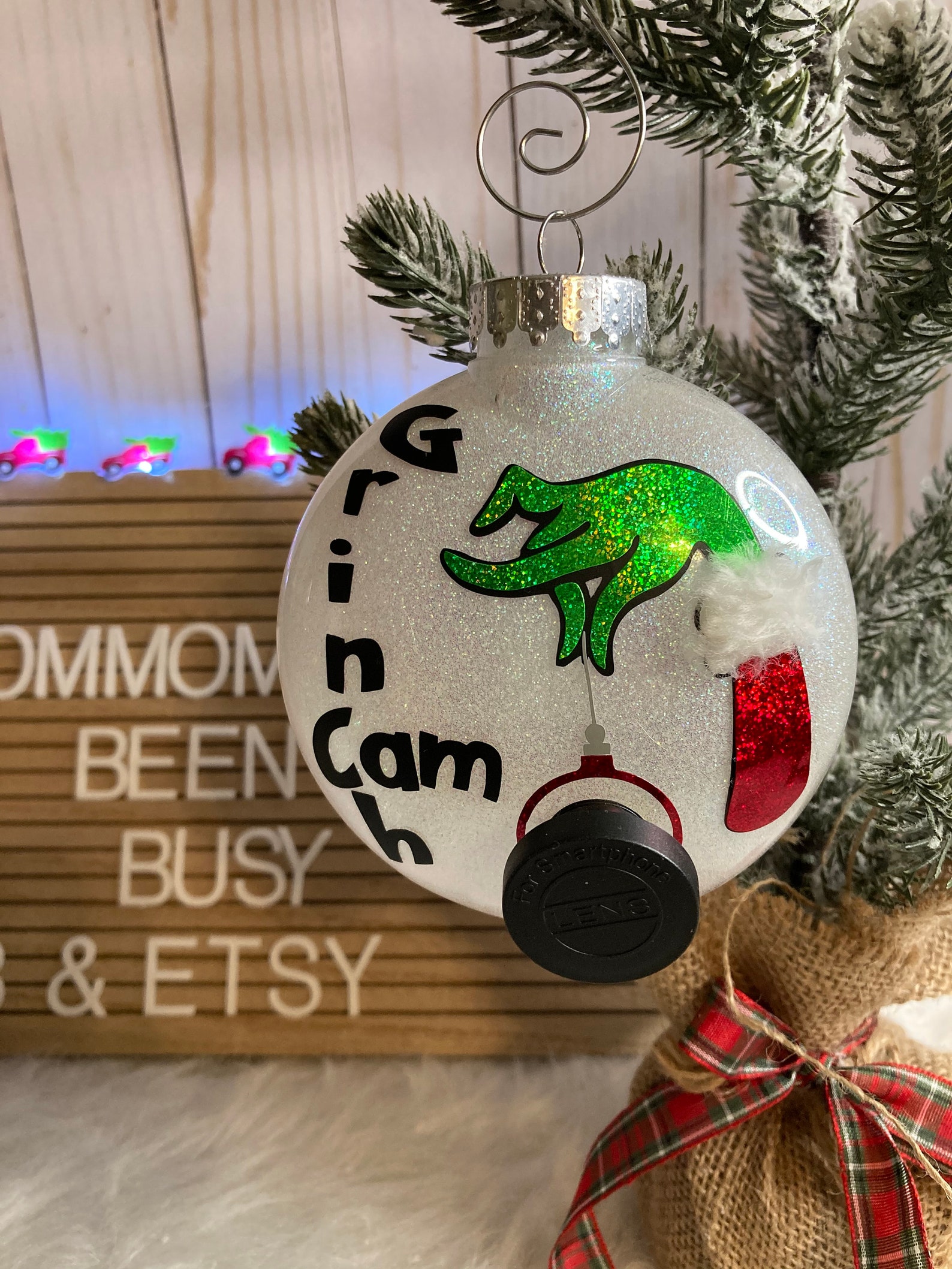 Grinch Cam!! He's just waiting to see who's naughty.

Handmade
Height: 4 inches
Maximum width: 4 inches
Description
A fun addition to the Santa Cam or to conspire with that darn elf!
4″ disc ornament with a camera lens to keep an eye on those kiddos. Speaking of eyes… is there someone looking through that lens? hmmm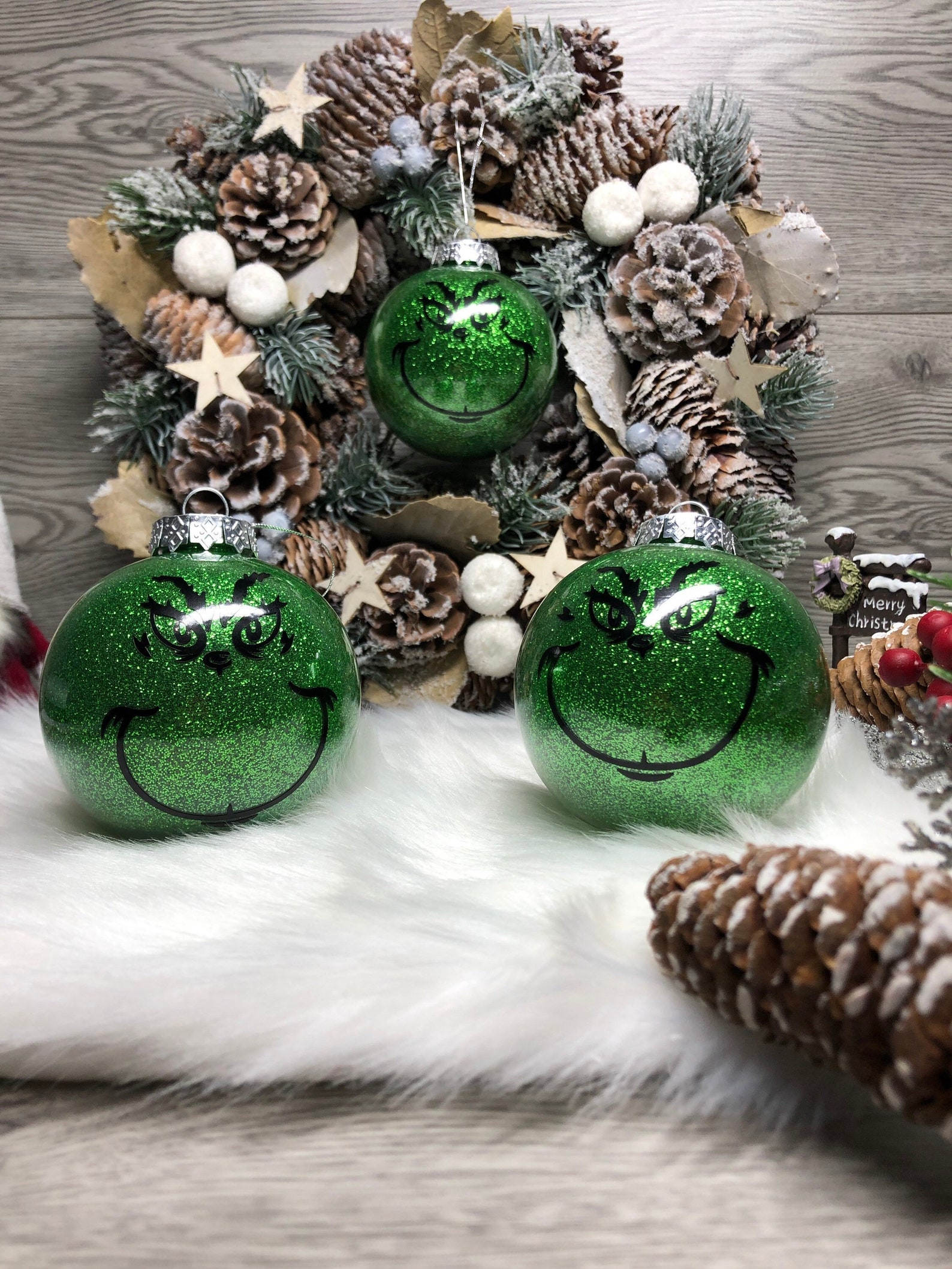 Grinch Face Green Glitter Bauble Christmas Ornament
Handmade
Materials: Vinyl, Ribbon, Bauble, Glitter
Height: 7 centimeters
Width: 7 centimeters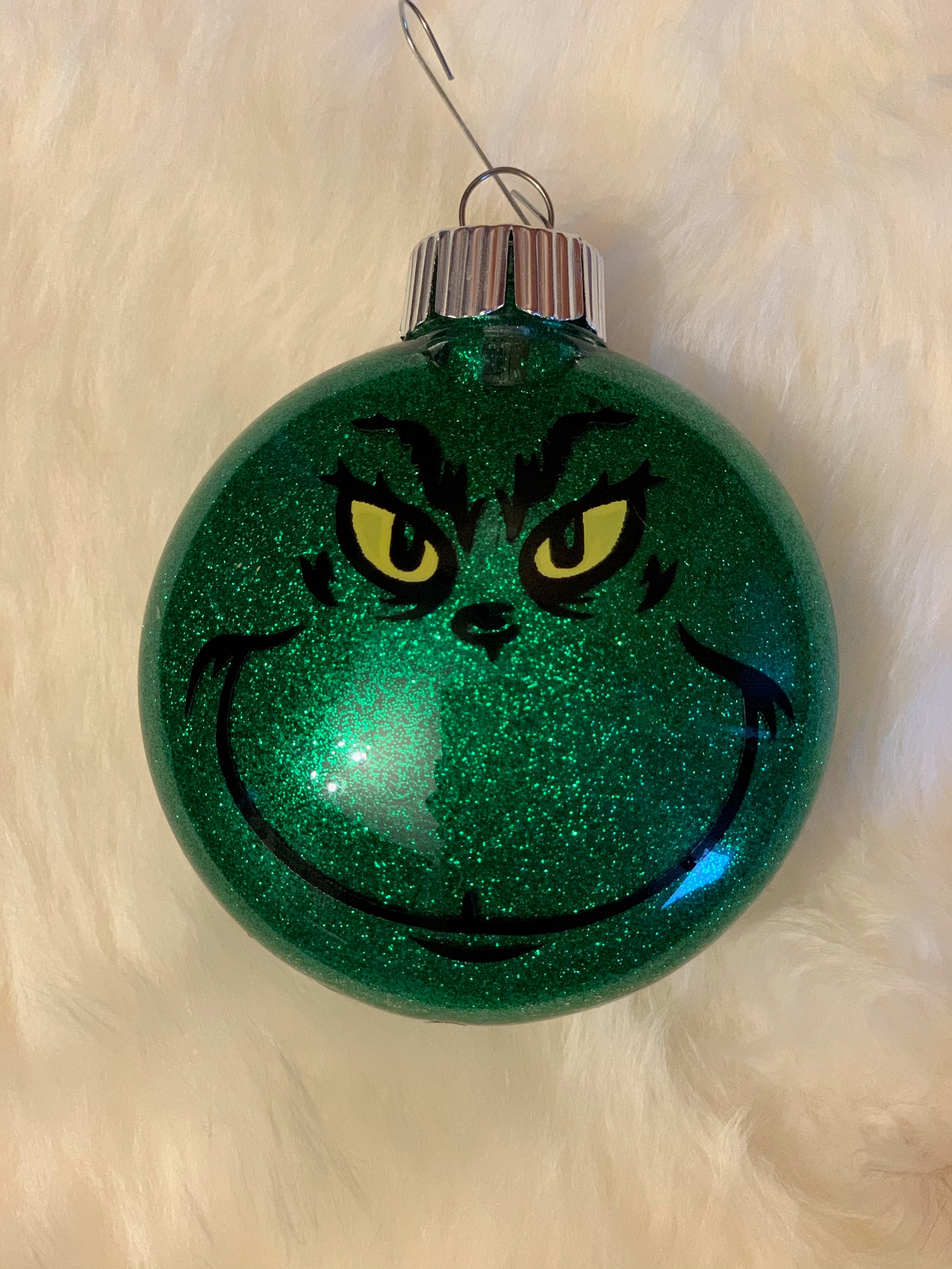 Grinch Glitter Christmas Ornament

Shatterproof plastic ornament with sparkling green glitter on the inside (no mess!) –
Features the classic Grinch smirk with bright yellow eyes -Vinyl printed on plastic ornament – Handmade with love
Handmade
Height: 3.15 inches
Maximum width: 1.61 inches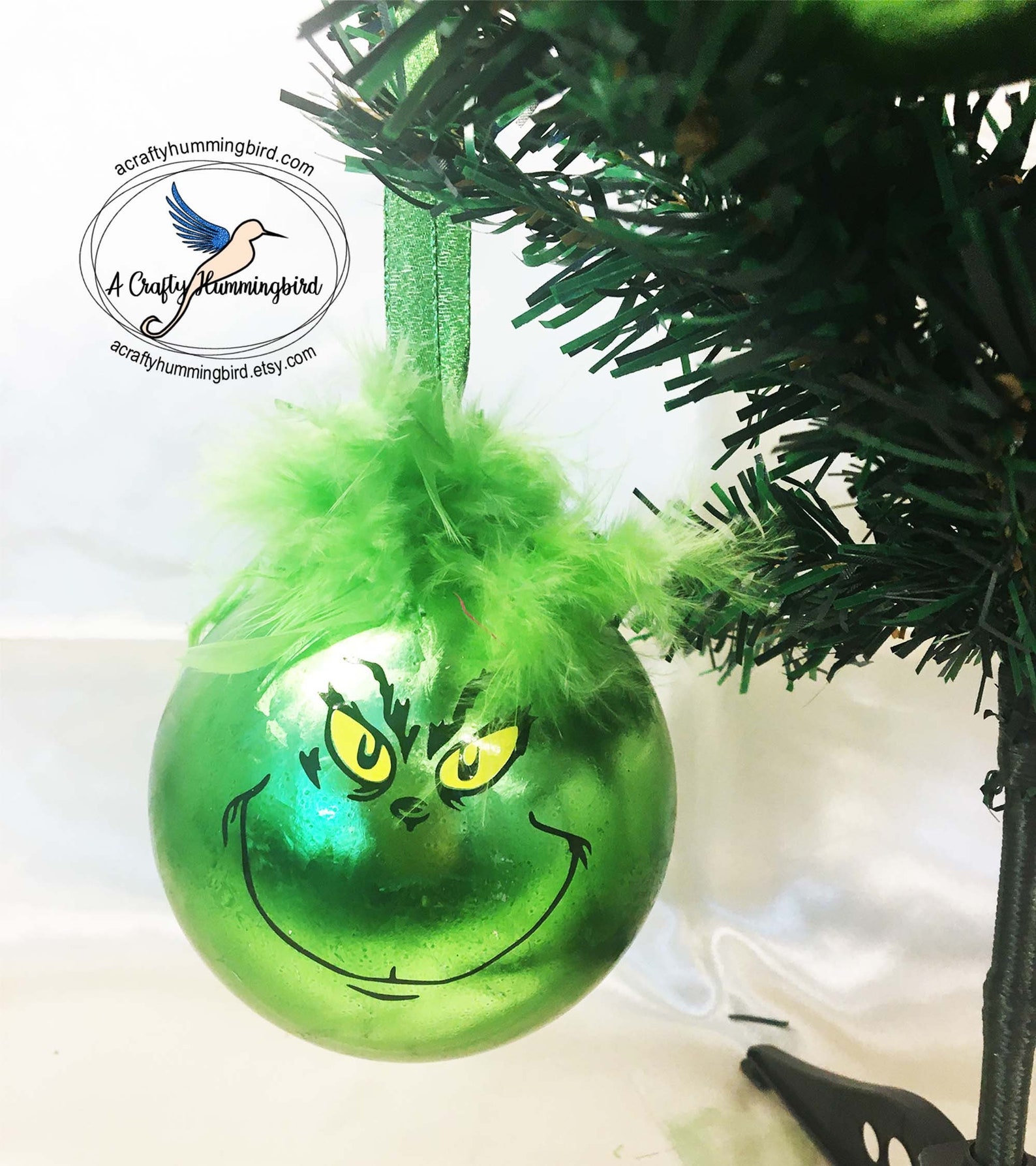 Grinch face glitter ornament, Whoville Christmas decorations
Handmade
Materials: plastic ornament, decorative ribbon, decorative bow, glitter on inside of ornament
Height: 3 inches
Maximum width: 3 inches
Description
Grinch face glitter ornament. This is a large 3.25 inch round shatterproof ornament. This is perfect for all your Whoville fans who want to see some Grinch on their tree.
A Christmas gift for family that they will cherish for years to come. Great stocking stuffer for boys
This Christmas ornament can be personalized with year 2021 or family name. Just let me know in notes section what you want added to your ornament.
Give them as party favors – your guest will get a good laugh and enjoy this ornament on their tree for years to come.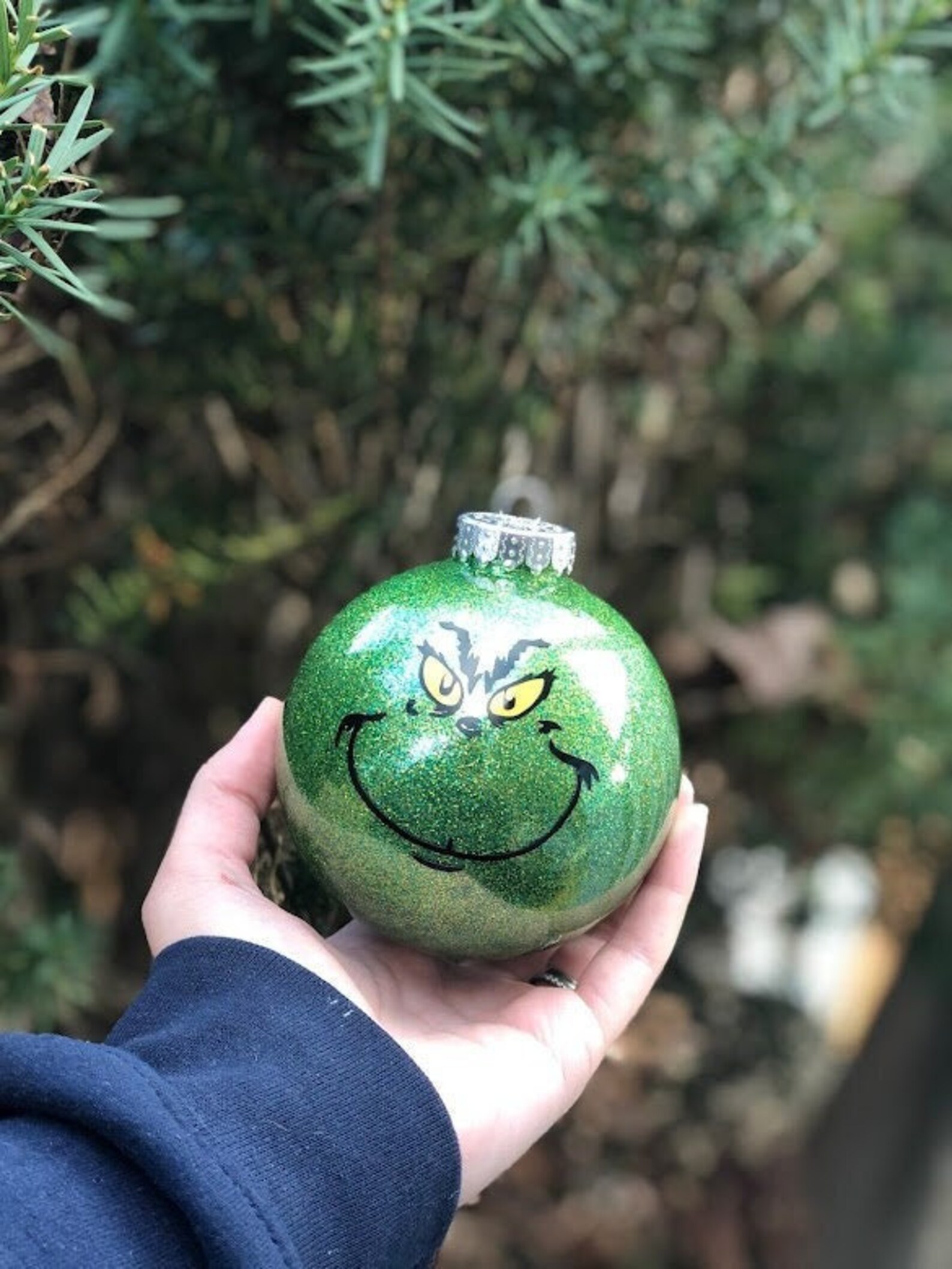 Add some flair to your Christmas tree with this holiday favorite ornament!
Every item is custom made, slight variations may occur.