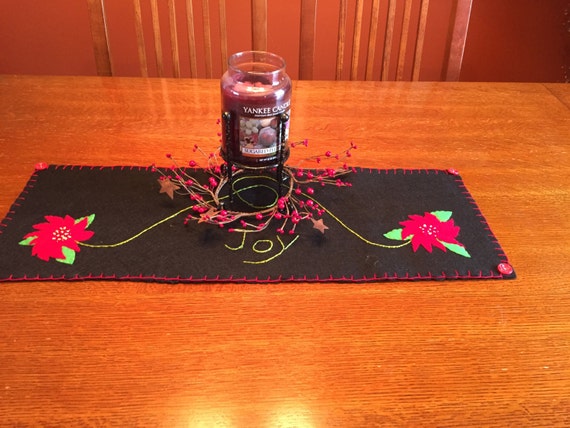 Primitive Poinsettia Table Runner
This colorful handmade double layered design, is made of wool felt fabric.
The poinsettia's are my design, I have hand cut each petal from red and green wool felt and hand sewn each to the black felt fabric.
The yellow center of the flowers are a series of french knots, and a green scrolled chain stitch connects the two flowers on each end.
The word "Joy" is also a chain stitch, which was inspired by the Christmas season.
The mat is 28″ long by 10″ wide and the layers are sewn together with red cotton thread, each corner is trimmed with vintage red buttons.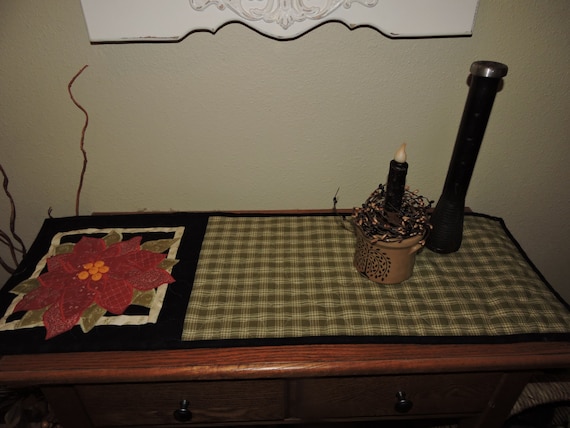 Quilted Christmas Poinsettia Runner with Lots of Layers (on the Flower) including Buttons 35″ x 12″
This Listing is for a Quilted Christmas Runner. It features an Appliqued Poinsettia with Buttons added. Look closely at the Flower and you will see a variety of Red Fabrics were used in layers.
Pea Green Homespun Fabric was used for the Body of the Runner. I incorporated the softest Black Marble Flannel I've seen yet. The Back Side also has that soft Black Flannel.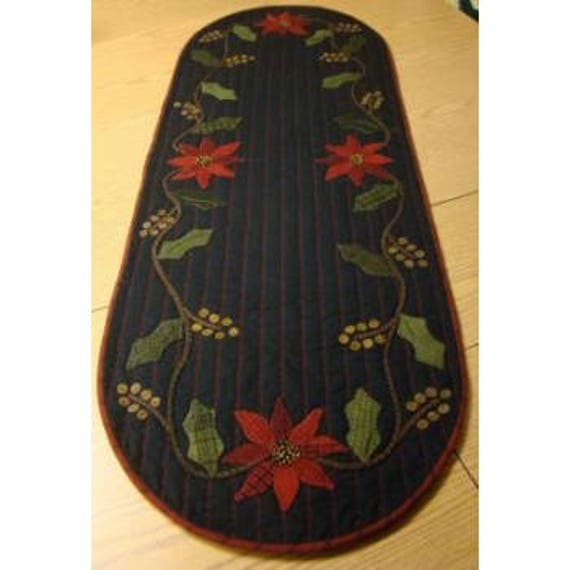 Holly & Poinsettia Table Runner
This beautiful runner is made with our hand dyed wools. It is 18″ x 48″ when finished. This runner would be great for the holiday season.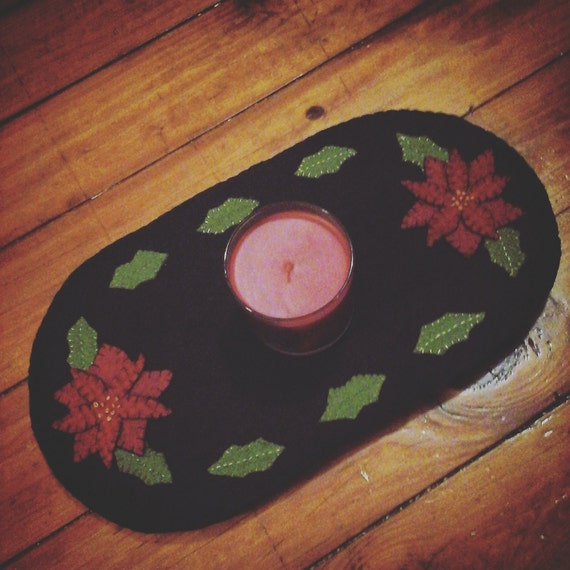 Poinsettia runner penny rug Christmas decor candle mat
This is a new runner of mine. All hand sewn by me, no machines involved. I've used a mix of hand dyed wool and some wool felt blend material to add a rich colorful look the the flowers and leaves. I can do custom orders if needed!
-Measures approximately 16 inches long by 9 inches wide
-spot wash only with mild soap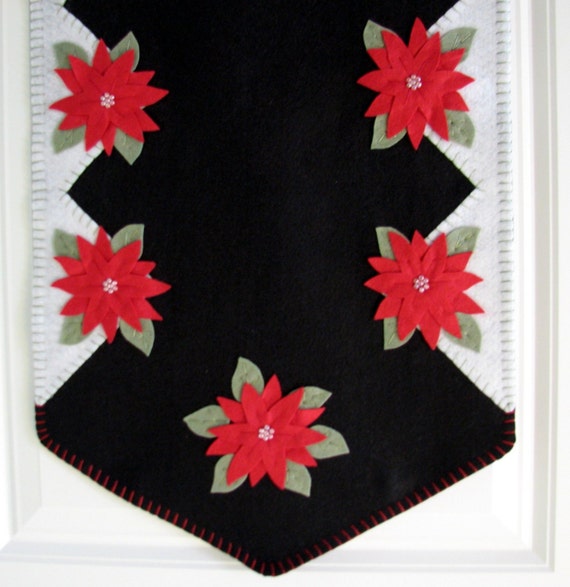 Hand Stitched Red Poinsettia Wool-Felt Primitive –
Here I am offering this 42″ x 14-1/2″ wool felt table runner decorated with bright red poinsettia's in time for the Christmas Holidays. It is adapted from a design from Crane Designs and would look lovely gracing your dining table, sideboard or dresser top. It is done in a black wool felt background and backing with a white inlay stitched in green and red poinsettia's with Austrian Glass beads securely sewn in the center of each flower. I have then stitched the ends with red DMC thread for contrast.