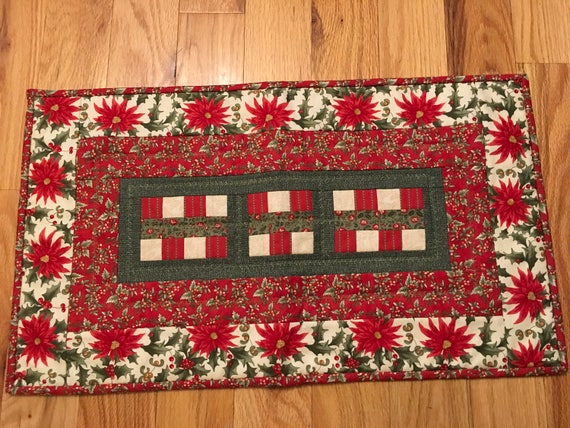 This poinsettia tablerunner can be used for both a classic holiday look or on the reverse side a fun casual holiday look. Fun snowmen on the reverse side will put a smile on everyone's face. Or forget the holidays and use it for a winter look. Great for a dining or kitchen table. Place it on a coffee table with complementary decorative candles, figurines or a big bowl of fruits and nuts.
Decorative quilting in variegated green. Hand finished binding.
Machine washable
Measurements 24 x 14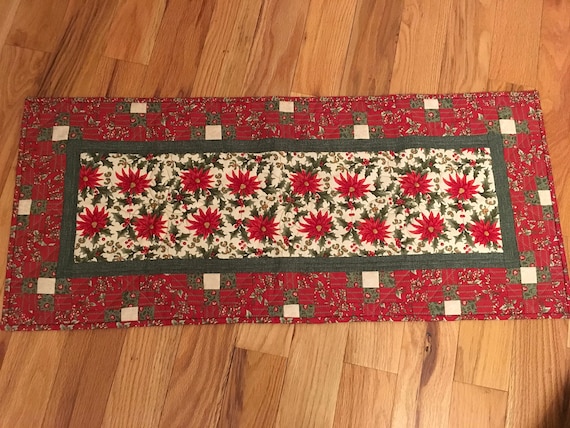 Christmas Poinsettias Tablerunner
It's not too early to start thinking about Christmas. This tablerunner would be a great added addition to your Christmas decorating or a nice gift for someone. Add some decorative candles or a bowl of fruit and nuts. It would look great on a kitchen, dining or coffee table. Three Poinsettias have been quilted down the center in a variegated green thread. The backing is a coordinating fabric. Binding was hand finished.
Measurements are 34 1/2 x 15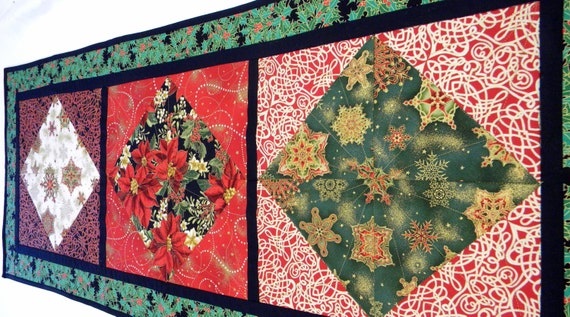 Christmas Table Runner, Poinsettia Table Runner
Christmas Quilted Table Runner is 16 inches wide by 44 inches long, just the right size for that large holiday table. The front has 3 diamond shaped Christmas designs squared off with holly leaves and berries fabric. The back is a holly leave and red berry design. The runner can be reversible.
Just the right festive décor for your holiday table. Great gift idea!!
All first quality quilting material. Batting is 80% cotton and 20% polyester. Reversible. Machine wash gentle cycle. Suggest using Color Catch Sheets to prevent worry about color runs. As with all color intense fabric it is subject to slight chance of color run or bleed. Machine wash, cool temp, gentle cycle.
I try hard to portray accurate colors, however, when ordering online different monitors may distort the actual color.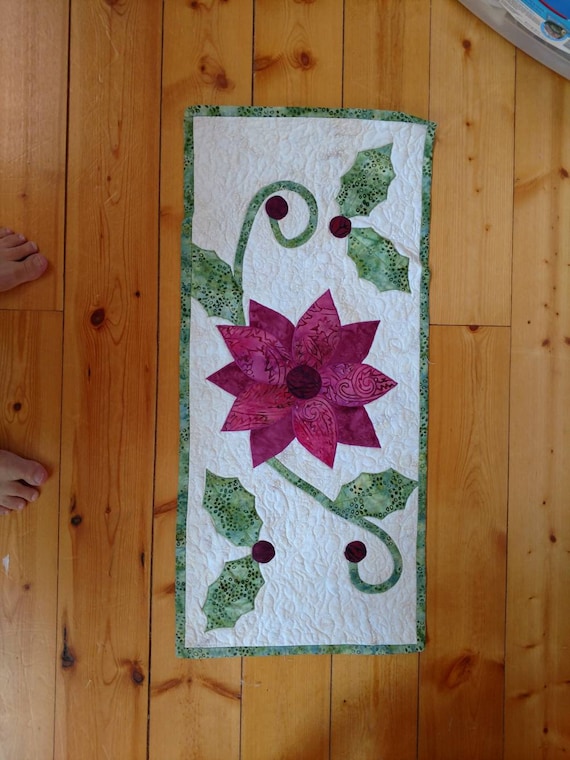 Quilted Table Runner Poinsettia
Measures 14″ x 30″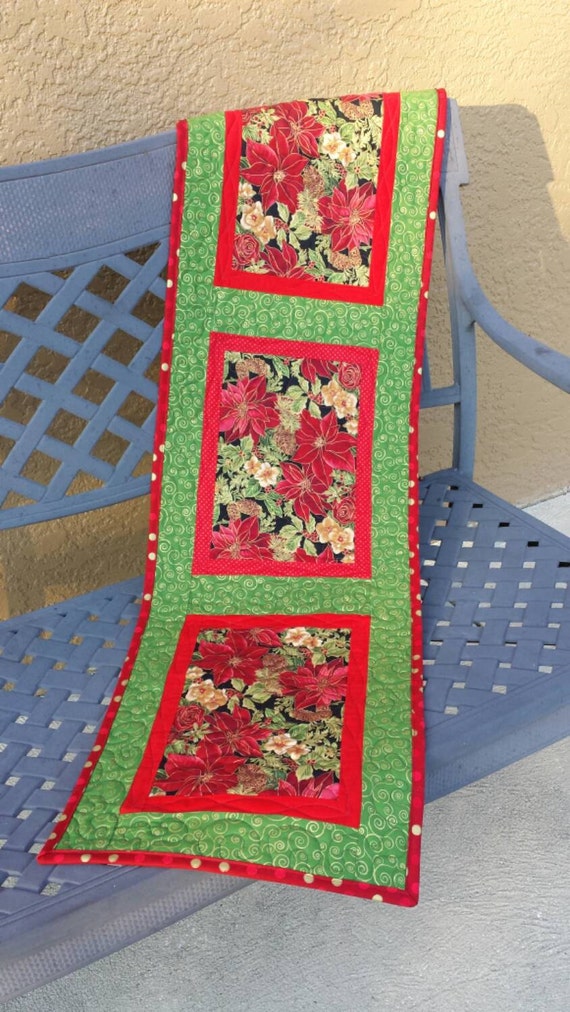 Christmas holiday table runner with poinsettias. Plus 2 Pot Holders. Handmade and reversible. 14.5″ x 49.5″
Christmas table runner, 14.5″ x 49.5″. Quilted red, green, gold metallic high quality cotton fabrics. Reversible. Potholders are insulated and measure just under 9″ square. Machine washable with mild detergent. Fantastic host /hostess or holiday gift.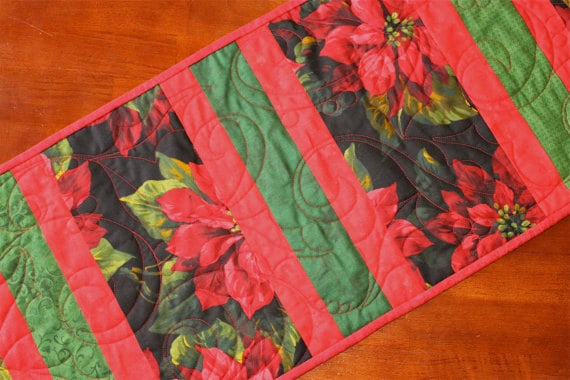 Poinsettia Christmas Table Runner, Black Quilted Christmas Table Runner
This festive Christmas quilted table runner was made by two friends who love to quilt together. It was created with a rich colored fabric featuring poinsettias in red, green and black. The rich colors are perfect to brighten up your table during the Christmas holidays. This table runner measures approximately 39.5" by 14" and is the perfect size to decorate your dining room table, coffee table, or any other surface that you want to add a splash of color to. The backing is a black fabric with poinsettias on it.
This table runner was quilted with Quilter's Dream batting on a long arm machine with red thread in a holly and ivy pattern. It was completed with a double binding that is machine stitched to the front and then hand stitched to the back for durability.
This table runner is made to last and to be well loved. To care for the table runner, machine wash in cold water on the delicate cycle and tumble dry on low heat. This will soften the quilted table runner and create the nice puckered look around the stitching. Since this has not been washed before, it will shrink a tiny bit after the first wash.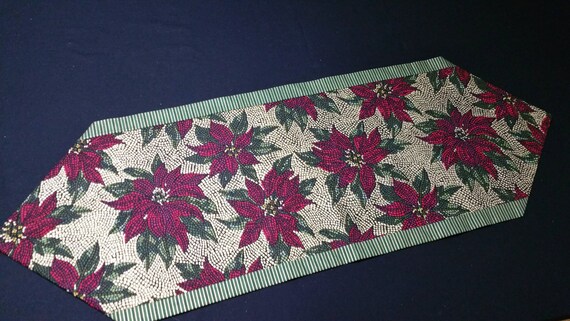 Christmas table runner Winter table runner Poinsettia table runner S
This is a stunning handmade table runner.
This table runner measures about 14″ x 42″.
It is made from designer cotton fabric with metallic poinsettias on a gold metallic background with a eye-catching stained glass effect. The border and sides are a small scale stripe of Christmas green, deep green and metallic gold.
This one-of-a-kind table table runner has been carefully hand made from designer cotton fabric and would make an elegant holiday statement in your home. It would be a perfect hostess gift during this holiday season or a unique thoughtful gift for a hard to buy for relative or co-worker.

Christmas poinsettia and holly table runner
Christmas table runner, mat.
100% cotton fabric
Approx 35″ X 14″
Attractive poinsettia pattern to the front and plain white backing.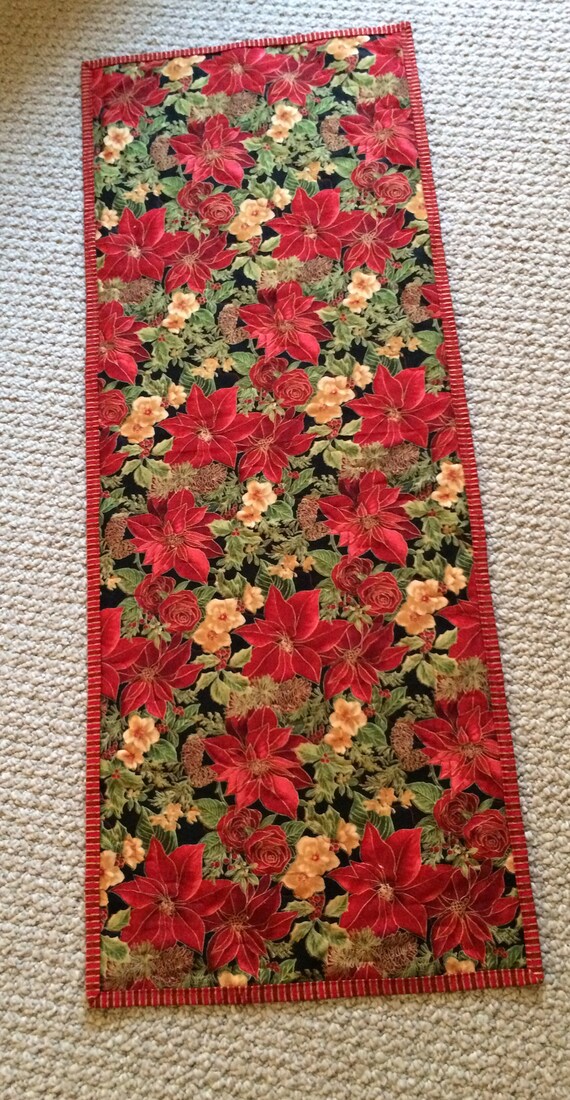 A bold colorful Christmas table runner. Measures 16×40. Quilted. Great for yourself or as a gift. If you want one for you and one to give let me know and I can make another one and ship in 2 days.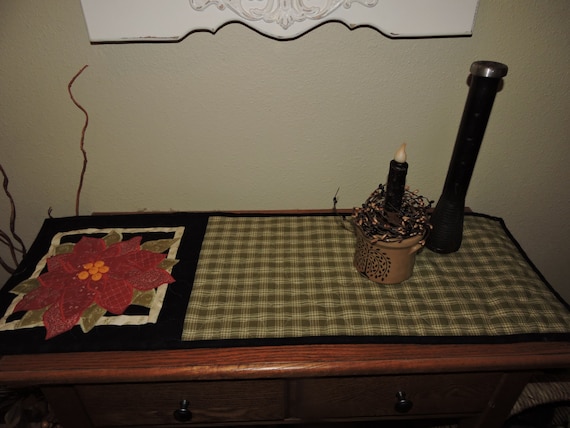 Quilted Christmas Poinsettia Runner with Lots of Layers (on the Flower) including Buttons 35″ x 12″
This Listing is for a Quilted Christmas Runner. It features an Appliqued Poinsettia with Buttons added. Look closely at the Flower and you will see a variety of Red Fabrics were used in layers.
Pea Green Homespun Fabric was used for the Body of the Runner. I incorporated the softest Black Marble Flannel I've seen yet. The Back Side also has that soft Black Flannel.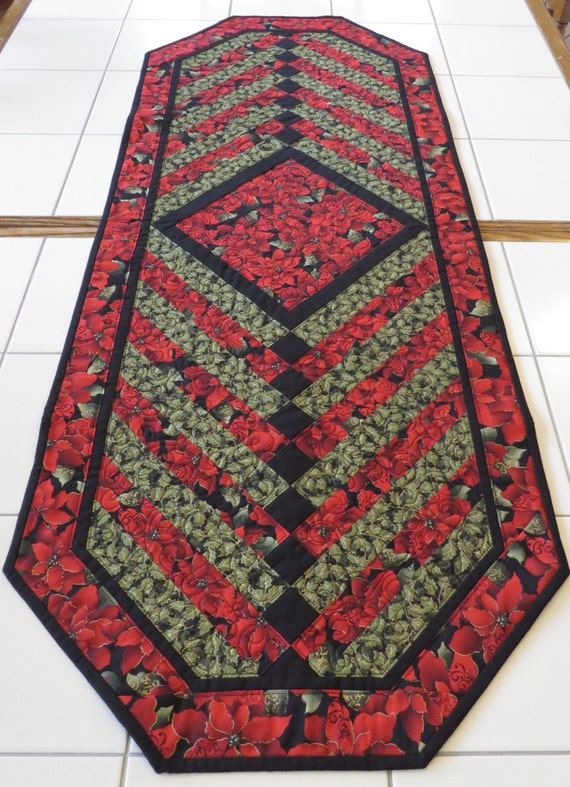 Quilted French Braid Holiday Table Runner Poinsettias Holly Red Green Black Gold
Decorate the holiday table this year with a beautiful handcrafted quilted french braid table runner. A festive mix of poinsettias and holly leaves trimmed in black with metallic gold accents, this runner can actually be used on either side to give two different looks.
• Measures: 20″ x 50″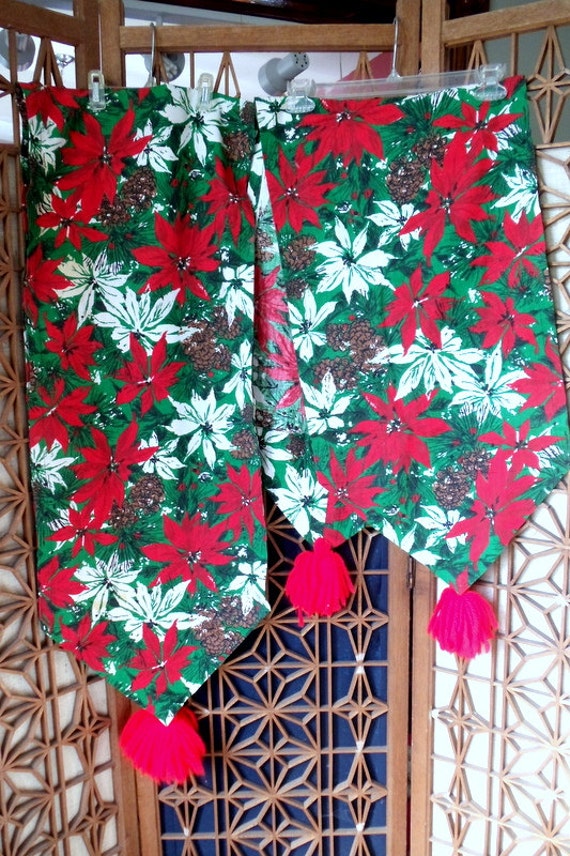 Vintage 1960 – 70 Christmas Table Runners Poinsettia and Pine Cone Set of 2
Hello! Up for your consideration is a super retro set of table runners. There are a few spots but they were very difficult to photograph. I tried to take pictures of the areas where there was a bit of spotting in the white area of the pointsettia flowers.
These would look great paired with your vintage 70's table accents. They have these puffy tassles on the end made with vintage braided polyester ribbons. The longer one measures (tip to tip) 6 feet long 2 " without measuring the tassel.
The shorter one measures 56″. Both are 14″ wide. The material feels like cotton.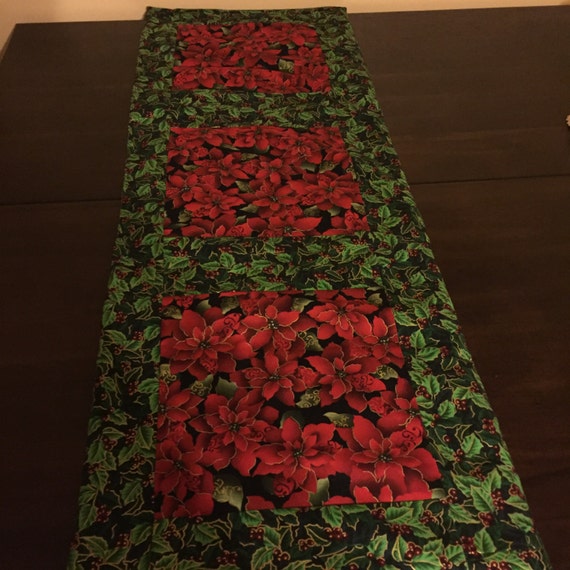 Holiday pointsettia table runner. Measures 41L x 15W. Made of cotton. Washable.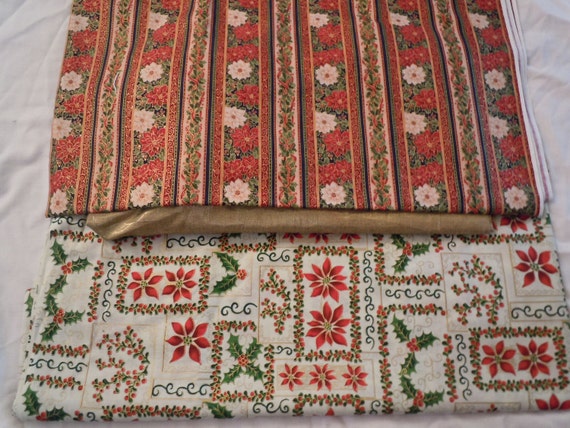 Christmas Poinsettia Quilted Table Runner – Extra Long
Gorgeous Christmas Season table runner.
This is the fabric I will use to create your table runner!
The last two pictures are of a finished table runner!
Beautiful on your dining table, coffee table, piano or any flat surface.
Measures approximately 19 inches wide x 66 long – custom sizes available upon request
Quilted style runner.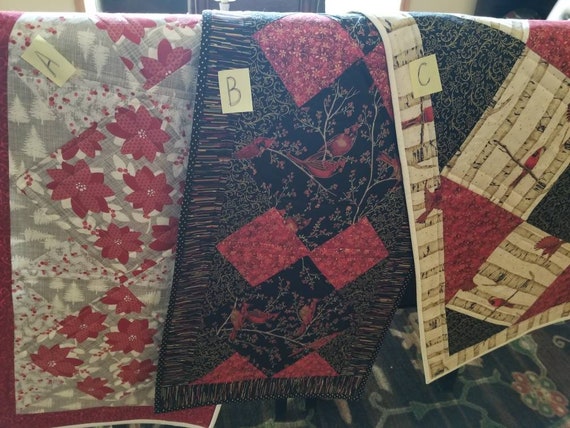 Pieced, quilted reversible table runner. Choose from 3 different options
3 very different fabrics in holiday/winter/Christmas pieced runners on one side and Leaves/fall in a solid piece of fabric on the other. Please choose letter A, B, or C when selecting your table runner
Price per each.
Each runner measures approximately 40.25 x 16.25 inches. 80 percent cotton, 20 percent poly batting. All cotton woven fabrics. Machine quilted. Machine wash in cool water and tumble dry on low. Press with a hot iron.
A: side 1: Modern fabric. Grey prints with red accents in berries and poinsettias. Sashed in red.
Side 2: Green leaves on white background. White binding.
B: Side 1: Pieced, gold gilded fabrics in red and back. Black with cardinals and swirls, red with poinsettia.
Side 2: woodland fabric with deer, leaves, pinecones, fish. Black background. Black and gold dot binding.
C: Side 1: Pieced on point Cardinals in birch trees. Gilded. Red and black gilded fabrics.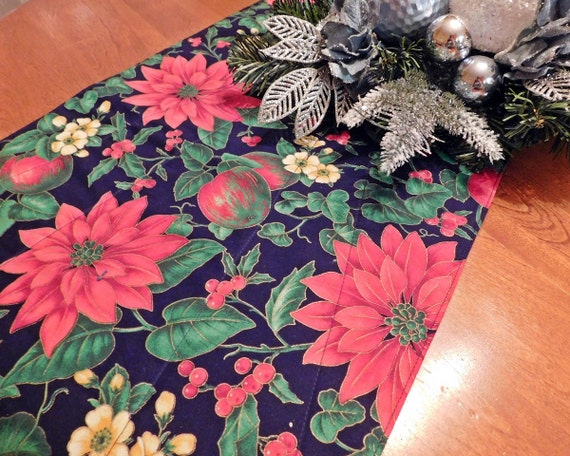 Quilted Christmas Table Topper – Floral Red Cream Blue Table Runner – Holiday Table Decor Reversible
Make your table look bright and festive this Christmas season with this beautiful Christmas table runner. On one side you have a festive fabric with poinsettias, apples, holly and pretty yellow flowers against a vibrant dark blue background. The other side is also a dark blue with pops of white, gold and orange stars. Sandwiched between the two layers of 100% cotton fabric is a layer of interfacing. Ends are mitered to give it a more modern look. Runner is quilted from each mitered corner lengthwise to give it more strength and durability.
Table runner measurements – 54″ long and 13-1/2″ wide (137 cm x 34.2 cm)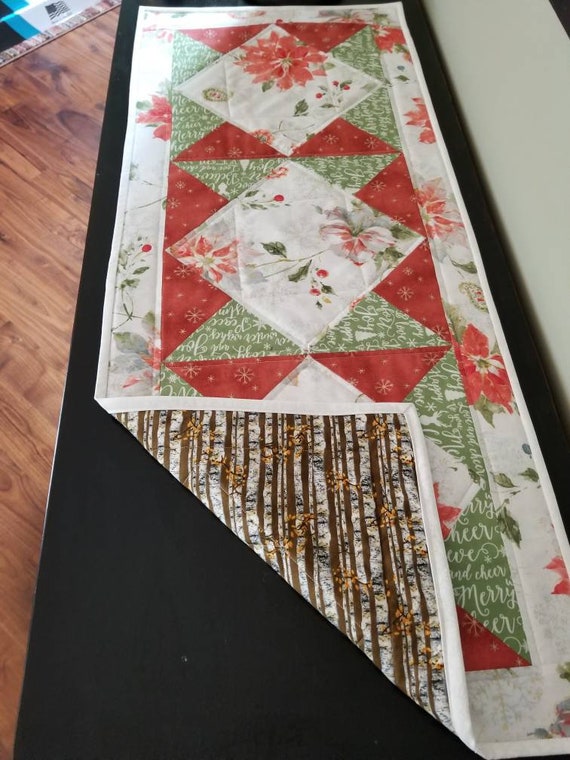 Reversible pieced quilted table runner featuring watercolor like poinsettias on 1 side and fall birch trees on the other
A fantastic reversible runner featuring a solid birch tree trunk fall print on one side. Accessories not included!
16.25 x 40 inches
Side two is pieced featuring watercolor like poinsettias and amerilous and paisley on a cream background. Accented with red and green holiday fabrics.
Cream binding, cotton batting, machine quilted.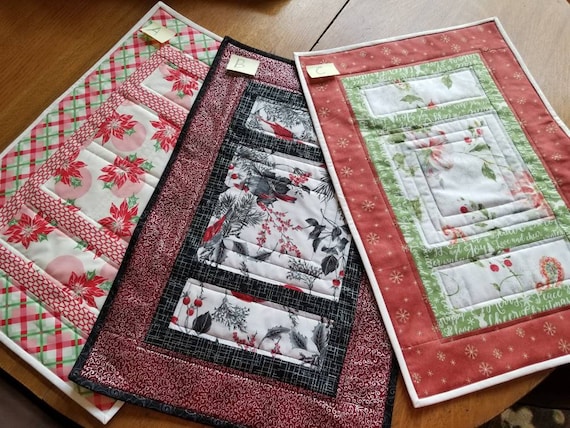 Reversible table runners 15.75 x 23 inches 3 different fall and winter choices. Poinsettia and birds featured
3 great choices with the approximately 15.75 to 16 x 23 inch table runners. Priced per each! Woven cotton fabrics and 80 cotton 20 poly batting. Choose A, B, or C at checkout.
A) side 1: pieced retro red, cream and green fabrics featuring the poinsettia. Side 2: leaves in rose and cream
Cream binding
B) side 1: muted white, grey, red and black fabrics highlighted with a splash of silver. Featuring the cardinal and chickadee in winter pine. Side 2: black fabric with gourds, leaves and pumpkins for fall.
Black binding
C) side 1: featuring a water color floral highlighted by green and red winter prints. Side 2: fall leaves in their glory.
Cream binding
Wash on cool, tumble dry on low and press with a hot iron.
Made in a smoke free and animal free home.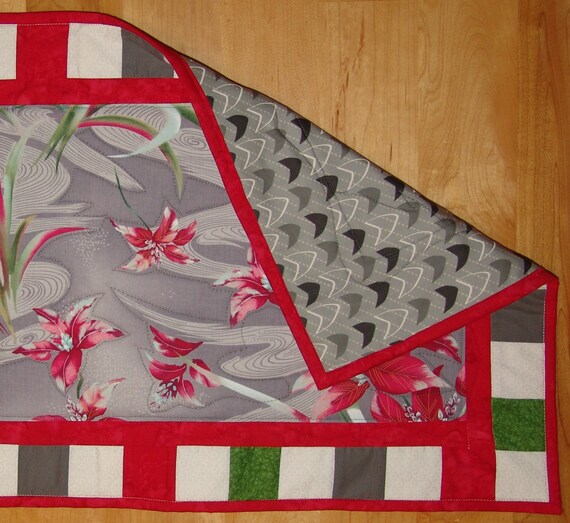 Christmas reversible table runner; retro grey and poinsettia fabric with a green, red, white border.
Christmas Holiday runner featuring retro fabric in grey and red with poinsettia picture on the grey background. The fabric is bordered with white, green and red squares. Binding is red.
The back is a modern woven print in off white, black and grey. Great for everyday with the red trim binding.
This is machine quilted and has a cotton batting. It may be washed in cool water and tumbled dry on cool setting.
It measures approximately 17 x 31 inches.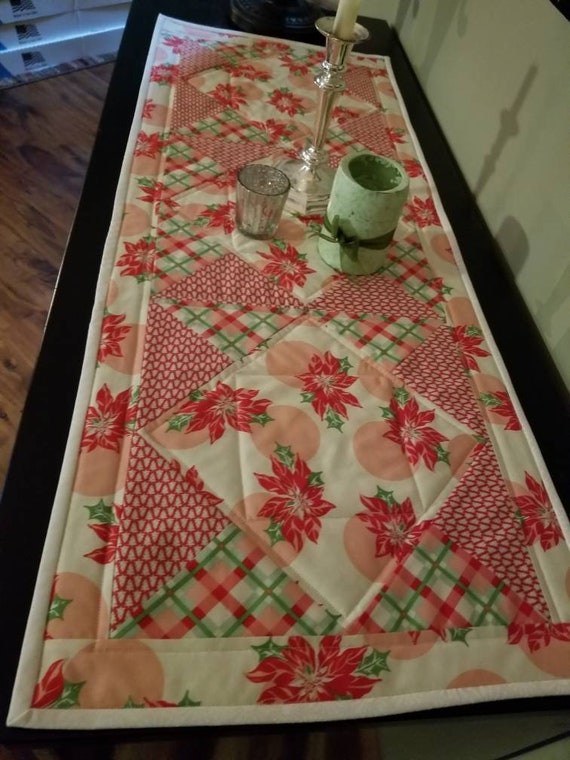 Reversible quilted table runner: side 1, retro poinsettia pieced. Side 2, fall leaves. 39.5 x 15.5 inches
Take a look at the fun, reversible, quilted table runner.
Accessories not included.
Side one: is a pieced retro fabric in red, green, pink and cream color. Three different patterns. Plaid, trees and poinsettias. Woven cottons.
Side two: Fall leaves
Machine quilted with cotton batting. Cream binding.
Measurements 39.5 x 15.5 inches. Great for buffets, tables and dressers.
Machine wash in cool water and tumble dry on low heat. Press with a hot iron.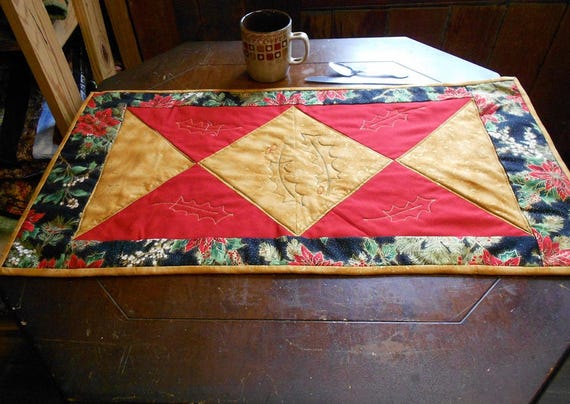 Christmas/Holiday/Winter Elegant Poinsettia Table Runner 16″ x 31″ metallic gold swirl/black with gold dots back/quilted holly leaves
Christmas/Winter Poinsettia Table Topper 28″ x 28″ metallic gold swirls/green batik back/quilted holly (#R54)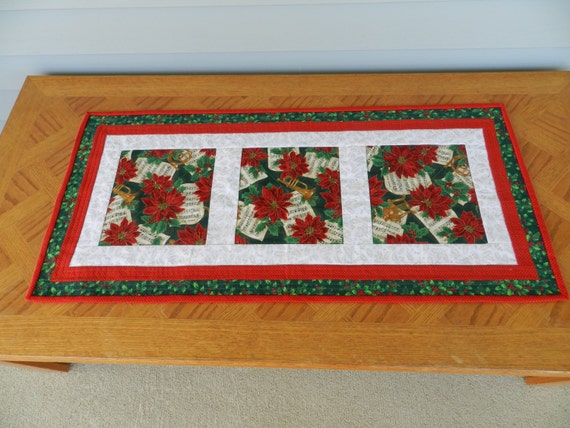 Christmas table runner, Poinsettia table runner
This pretty poinsettia Christmas table runner would fit into any holiday decorations. Use it on your coffee table with a candle or flower arrangement or hang it on the wall to add some Christmas charm to your room. Use it on your dining room table or buffet to add some Christmas cheer to your home for all of those holiday parties.
Measurements: 16 inches by 34 inches
This Christmas poinsettia table runner features three middle panels with poinsettias and sheet music. The panels are surrounded by a white fabric with gold holly leaves and berries. This is surrounded by a red border and then a green border with holly berries as well. The red double fold binding matches the red border and is machine stitched to the front and hand sewn to the back. The backing fabric is green. A piece of a cotton sheet has been used as the batting to make the piece lie flat. The piece is machine quilted with green thread.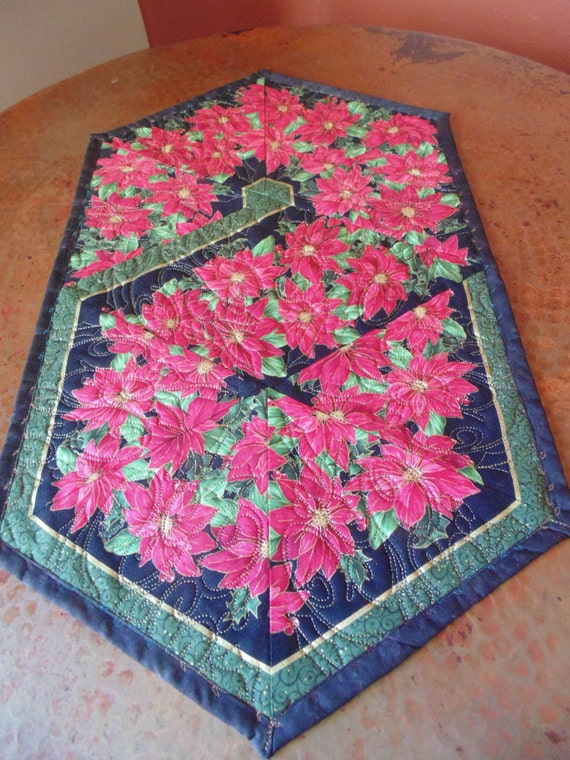 Holiday Christmas Poinsettia Swirl Table Runner
This holiday poinsettia table runner measures 23″ long X 13.5″ wide and makes a great centerpiece for any size or shape table. The runner features densely packed bright red poinsettias in a swirl pattern on a black background with a green accent stripe swirling the opposite direction. There are also "blingy" gold accents throughout the runner adding elegance. The backing fabric is a solid black and the binding is done using a black marbled fabric. All fabrics used are quilt-shop quality 100% cotton fabrics. The runner is also densely machine-quilted using a green and gold twist thread on the top and a black thread on the back in a holly pattern. The binding is attached by machine using a variegated gold, green and red thread in a vining decorative stitch. This runner is machine-washable and dryer-safe but will look nice longer if hand-washed and laid flat to dry.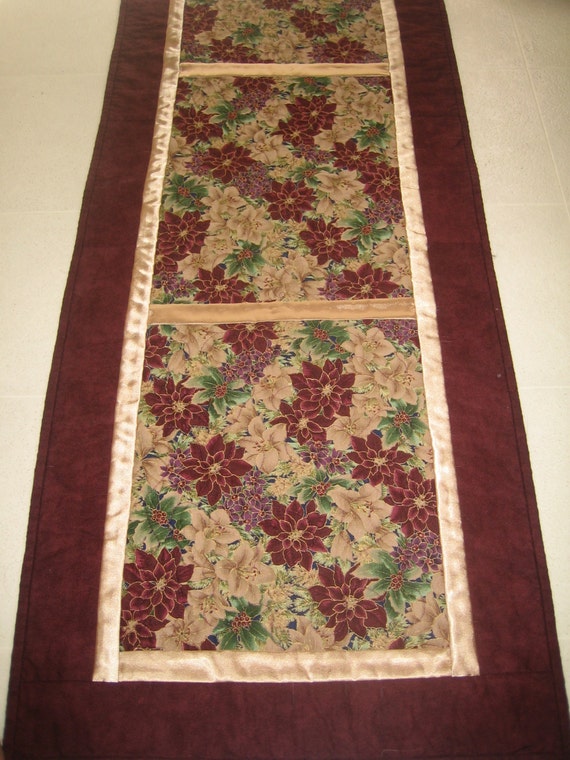 This elegant table runner is made from a metallic gold and burgundy fabric with poinsettias. The inner border is a gold satin fabric, and the outer border is a deep burgundy that matches the flowers in the print.
To clean, simply wash in warm or cold water and lay flat to dry.
It measures 45″ x 17″.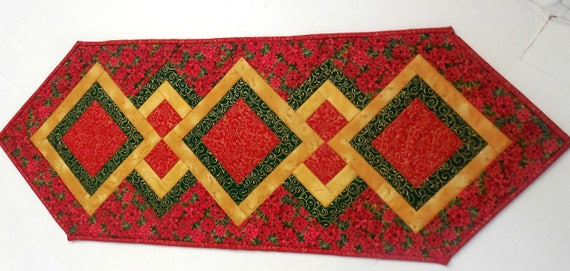 Poinsettia Table Runner-Reversible-Free Shipping to Continental US
If you love red and gold for Christmas then you will love this table runner. I used a lovely collection of metallic prints for this piece. I used a red, green and gold poinsettia print, two different gold prints, and a green and gold swirl on the front. On the back, I used a lovely cream with primarily a green and gold holly print. This is a very elegant piece. Between the layers is Warm and White premium, cotton batting. The binding is a red and gold print that matches the center of the squares on the front. I think the green and gold on the back is very pretty. If you decorate your table with poinsettias or holly, this piece will look great on your table. The binding was machine attached to the front, and hand sewn to the back. My stitches on the back are so small and discreet that they are virtually invisible.
Measures 14 inches by 38 inches long.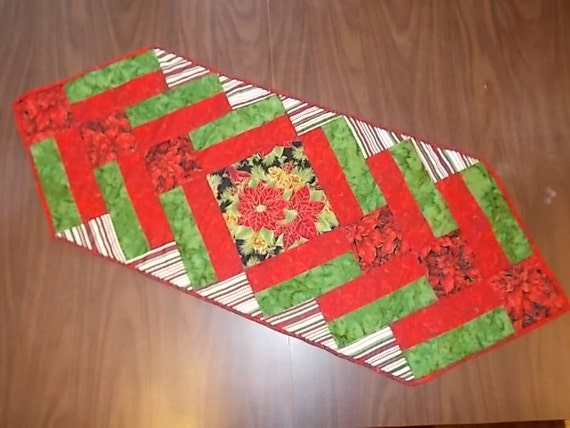 Quilted Christmas Table Runner
This quilted table runner will dress up your house for the holidays.
Using the quilt as you go method this table runner has the traditional Christmas colors. The middle square was fussy cut to showcase the cardinal nestled in the poinsettias.
It measures 15 1/4 inch wide by 39 1/2 inch long from point to point.
It was made with 100% cotton quilt fabric and cotton batting.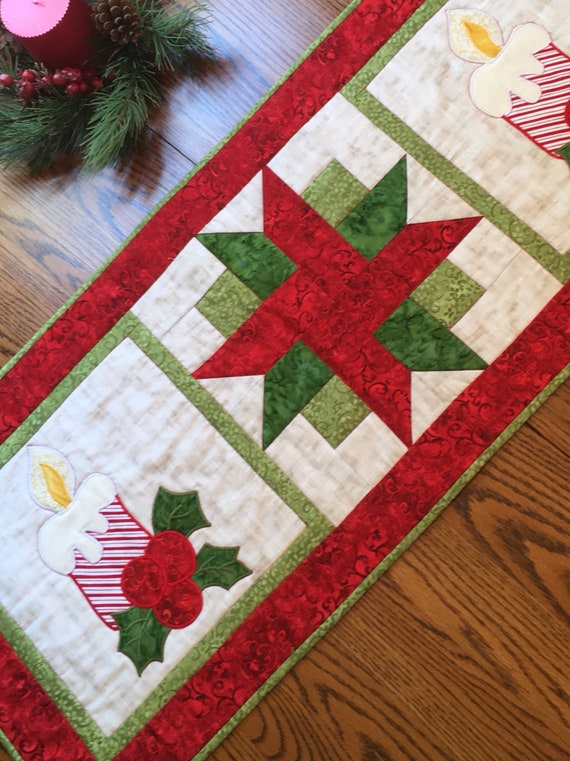 The Lights of Christmas Quilted/Applique Table Runner
I was inspired to create a table runner showcasing the lights of Christmas. The burning candles surround a star block.
The candle blocks are appliqued onto the background fabric. The pattern for the middle block is called a ribboned star. The same high quality cotton quilt fabric were used throughout to cordinate this table runner. It is machine quilted with cotton batting used inside.
Table runner measures 16 inches wide by 39 1/4 inches long.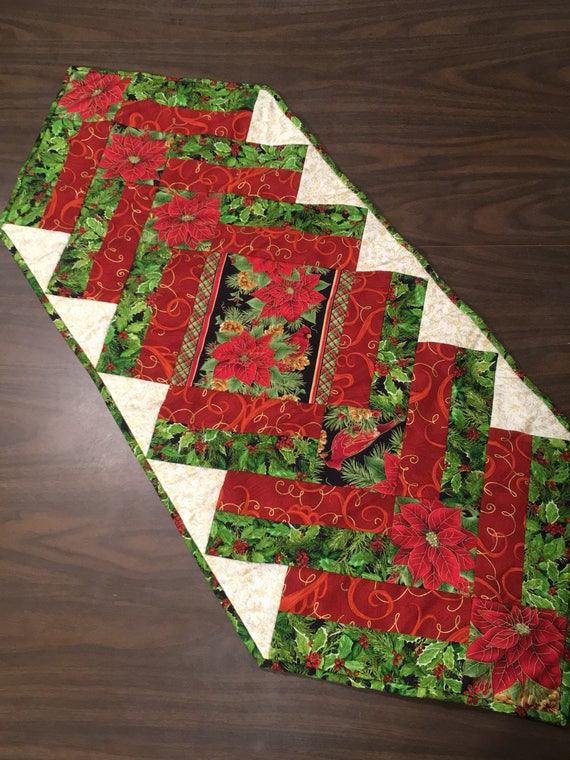 Quilted Christmas Cardinal Table Runner
This table runner is made in the quilt as you go method. It is 100% cotton quilt fabric with cotton batting.
The middle center squares are fussy cut to showcase the cardinal peeking from among the poinsettias. The triangles on the border are made with white fabric with gold glitter overlay;
photo # 4 gives a better shot of this.
It measures 15 3/4 inch wide x 39 1/2 inch long from point to point.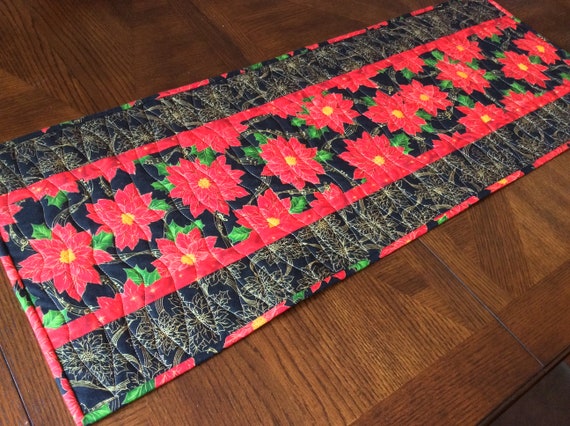 Elegant Poinsettia Quilted Christmas Table Runner –
An elegant and classy look for your Christmas table. This runner is made with a gorgeous poinsettia print that has a black background, red and gold poinsettias with bright green leaves, and gold music notes and staffs running throughout the design. There is a narrow red border, and an outer border of black with gold poinsettias.
The table runner measures 15" wide by 38 1/2" long. It is machine quilted with gold thread. A green, red, and cream holly print is the back of the runner, making it reversible.
Machine wash gentle cycle, tumble dry low heat or lay flat to dry. Iron if desired.