The Original Skidders Baby Boy Plush Booties Reindeer Slippers
polyester
Plush bootie with a red sherpa lining for extra warmth
Durable gripper bottoms
Velcro opening for easy on & off
Mud Pie Unisex-Baby Crochet Reindeer Booties
Reindeer crochet booties feature soft knit antlers, pom-pom nose and button eyes
Reindeer Girl or Boy Baby Bootie (Red or Brown)(0-12 months)
Reindeer Girl or Boy Baby Bootie (Red or Brown)(0-12 months)
(0-12 months)
Cotton Fabric
Non-skid bottom of bootie. Reindeer Girl or Boy Baby Bootie (Red or Brown)(0-12 months)
Carter's Baby-Boys Newborn F13 Reindeer Crocheted Booties
Carter's hosiery by goldbug These are boys 1pack xmas booties
Mud Pie Unisex Baby Reindeer Booties
Reindeer crochet booties feature soft knit antlers, pom-pom nose and button eyes. 0-6 months.
Rudolph Baby Girls or Boys Booties, Non-Skid Bottom
Rudolph the Red Nosed Reindeer Girl or Boy Baby Booties w/ Anti-Skid Bottom
-fleece/ cotton – fleece lined
– 12cm/ 4.75 inch 0-6months
– 13cm / 5.11 inches 6-9months
– 14cm / 5.5 inches 9-12months
Doris Kids Baby Christmas Reindeer Shoes Soft Sole Anti Slip Prewalker Wool Boots
PU leather + Man-made Fleece
Imported
Soft baby friendly PU leather + man-made fleece, safety tested for peace of mind.
Soft wool material makes baby feel very warm and comfortable.Lace-up closure on the back for secure on and off.
Lightweight and anti-slip sole is well-crafted to make walking feel natural.
Lovely and Charming design makes your baby more lovely and fashion.
BabyDeer Snuggamals Holiday Booties w/Foot Rattles
Snuggamals Holiday Santa Booties w/Foot Rattles
Cushioned elastic with candy striped lining
Fun colors and rattles engage baby's senses – Encourages kicking and movement
Thick cushion keeps baby's feet warm and snug
Non skid pattern on sole
Country Kids Baby-girls Newborn Dashing Through The Snow Booties
70% Organic Cotton, 27% Nylon, 3% Spandex
Imported
Machine Wash
2 pairs of organic baby booties
Available in size 1, 0-3 months, size 2, up to 12 months
Made with the softest organic yarn, featuring a handlinked seamless comfort toe
Packaged perfectly for gift giving
Easy care, machine washable
Bearington Lil' Reindeer Booties 6-12 Months
Holiday Baby Reindeer booties, with super soft white and red trim and lining
Award-winning Bearington Collection
Great accessory to Christmas/Holiday attire
Traction dots throughout soles to ensure a non-skid surface
With easy pull on off design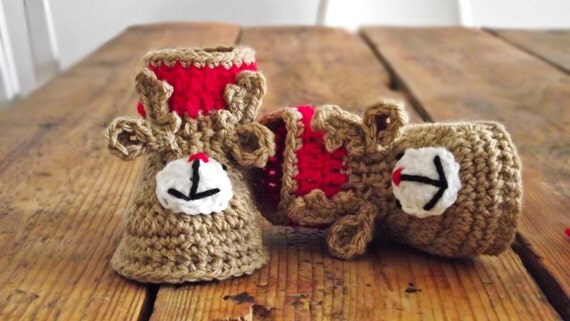 crochet baby reindeer booties, crochet baby boots crochet reindeer booties
These fashionable, funny red nose reindeer baby booties will make your baby little feet cozy and warm.
This is fantastic gift for birthday, Christmas or baby shower.
Booties crocheted with soft baby acrylic yarn.
Designed and made by me.
100% cotton upper lining with soft vegan wool inner lining Made by a mom in Florida, USA Safe, Non-slip, Non-skid SOFT Sole Stay-on with the 360° elastic system Adjustable Ankle Strap® for the perfect fit Durable handmade stitching Made to order Vegan, Breathable, Machine Washable, Adorable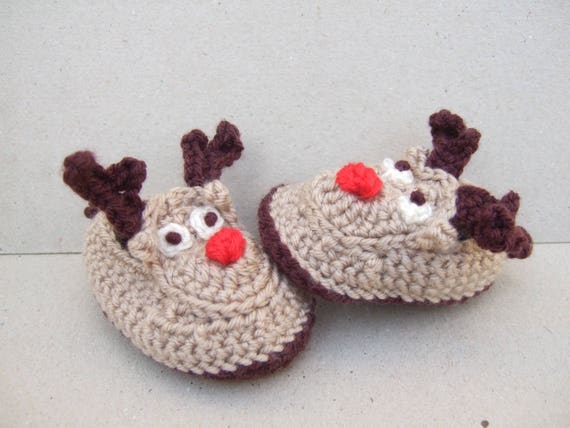 The Baby Reindeer booties are lovingly hand crocheted.
These shoes are suitable for both girl and boy babies.
The sole of the booties are approximately 9cm (3.5 inch) and therefore suitable for babies of 0-3 months old.
The Baby Reindeer Booties are perfect as a Christmas gift or for Christmas photos.
These booties are made from 100% Anti- Pilling yarn and are machine washable by up to 40C.
I put great attention to detail and made sure to fasten all small parts securely and hide any loose treads thoroughly. I did not use any glue or other toxic materials.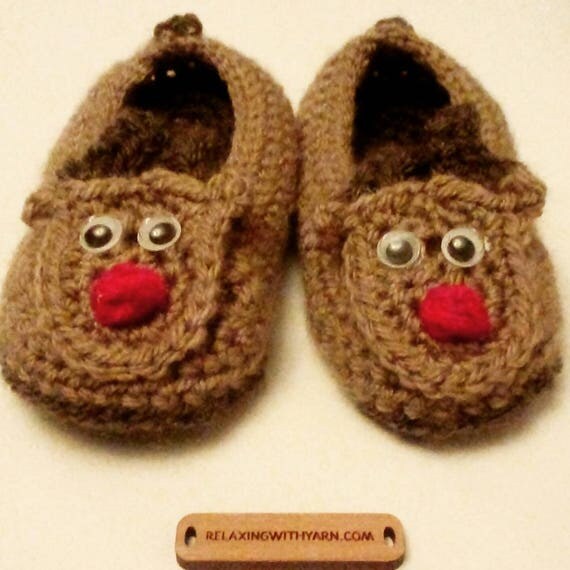 The crocheted reindeer baby booties are handmade in a smoke and pet free environment. These booties are suitable for baby boys or baby girls.
I make all of these booties myself and will do customer orders if requested. The sizes stocked in the shop are ones that are ready to ship. For custom orders I will need to add extra time on to make them but I will keep you updated on your individual circumstances.
The sizing for the sole of the booties are:
– 0 – 3 months: 9 cm
– 3 – 6 months: 11 cm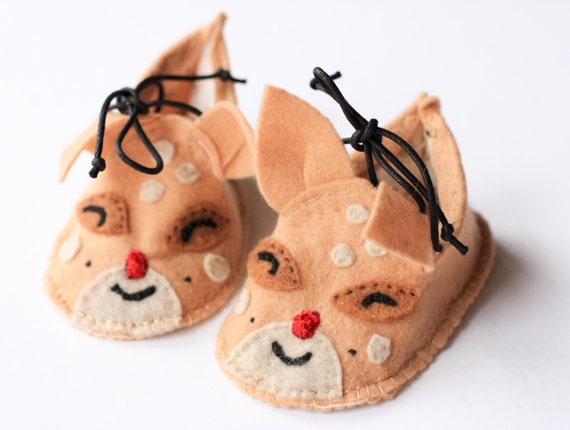 Rudolph the red nosed reindeer baby moccasins
Rudolph is here to keep your newborn's tiny toes cozy with this precious deer mox. These cute festive faces will make everyone smile, including your little one!
These hand sewn and embroidered booties are made with a tan felt on the outer shell and a beige fabric with gold tone embellishments on the inner lining. The polyester black cording is the perfect length to tie a loose bow to keep the booties on your little one's feet. These booties are not intended for wear with walking infants, since they do not have a non-slip bottom. These would make a great photo shoot accessory or cute addition to that perfect Christmas outfit!
about your booties…
• shoe measures 4-1/4″ x 2-1/2″ on the bottom outer measuring
• slightly smaller on the inside.
• These are made with tiny feet in mind!
• Comes with peek-a-boo shoe box packaging, ready for gift giving!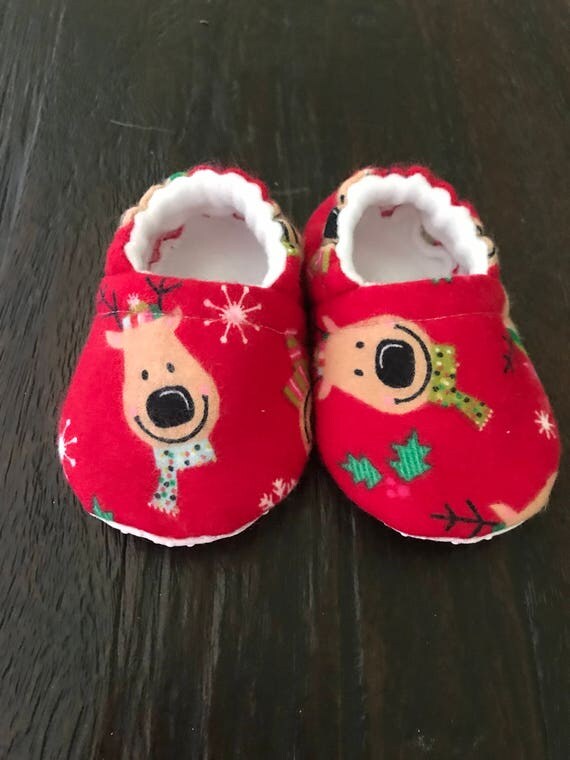 Flannel reindeer baby booties / crib shoes
Use them as slippers or use them as shoes for the little non movers.
These booties are lined with fleece to help keep your little one's feet warm. They also have the non slip grip bottom to prevent slipping for little walkers.
Care Instructions:
-machine wash cold
-lay flat to dry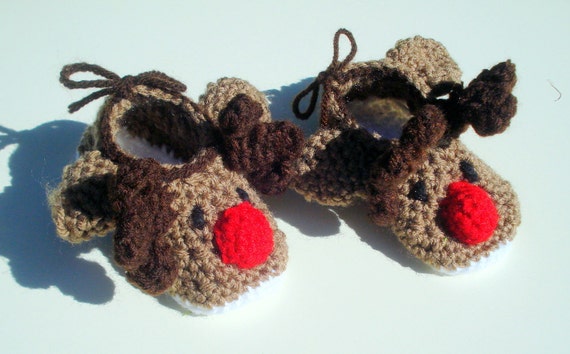 baby Christmas gift – baby Christmas slippers
Adorable reindeer baby booties. 3-6 month size.
A thoughtful and appreciated holiday gift!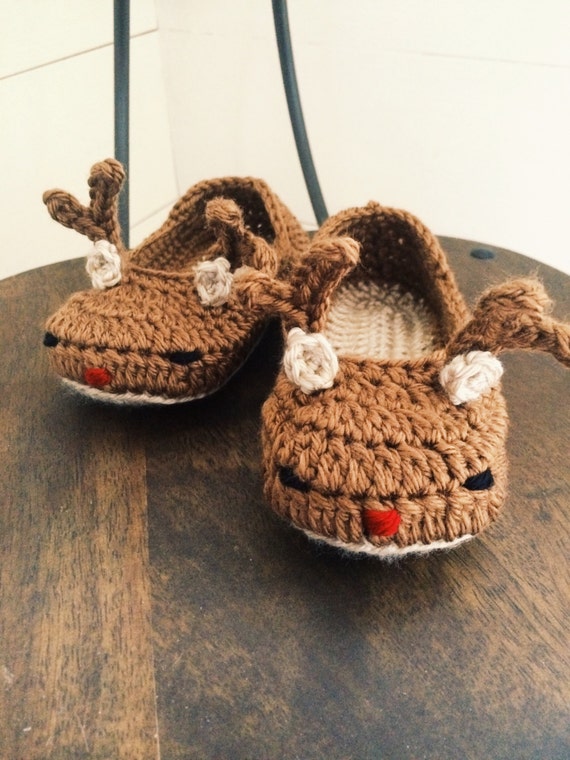 Toddler/Child Reindeer Slippers – Rudolph the Red-Nosed Reindeer slippers
Reindeer slippers, toddler child crochet slippers, crochet shoes, Christmas slippers
What better accessory for the holiday season than reindeer slippers? These crochet shoes are the most adorable, comfortable slippers your little one will ever slip on thier feet – I guarantee it! What better thing to have peeping out of a Christmas stocking than these little reindeers?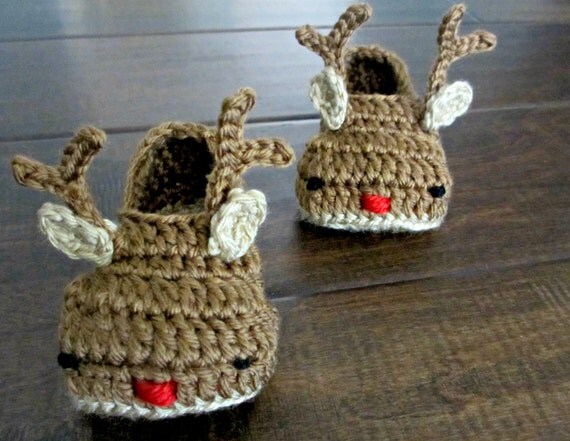 Baby Reindeer Booties – Crochet Shoes – Newborn 3 6 9 12 months
Reindeer booties, crochet shoes, Rudolph slippers
It doesn't get any more adorable than baby reindeer booties! These shoes are hand crocheted just for you! They feature reindeer antlers, ears, eyes, and of course, a red nose (you could even say it glows!) The soles are made of tan yarn, and the uppers are made of chocolate brown.
Another great thing about these booties is that they work fantastic for both baby boys and baby girls!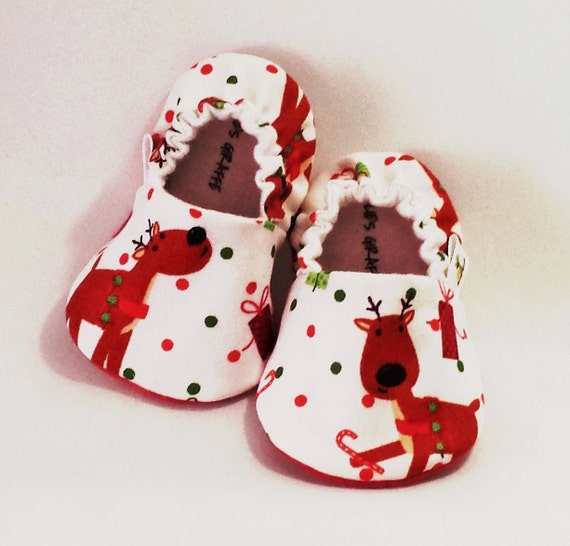 Reindeer Baby Booties, Holiday Baby Booties
Reindeer Baby Booties, Holiday Baby Booties,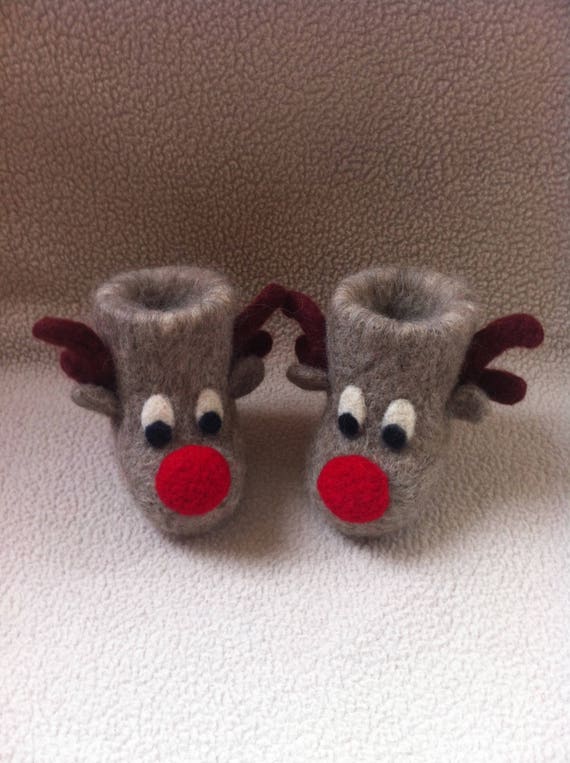 Reindeer baby booties, with big red nose. Pure wool felted
Made over 3days these boots are beautifully made and will last for generations.
Pure wool felted by hand no stitching.
Ideal for any baby
Super cosy
Please feel free to ask any questions
Hand wash only gently squeeze air dry do not tumble dry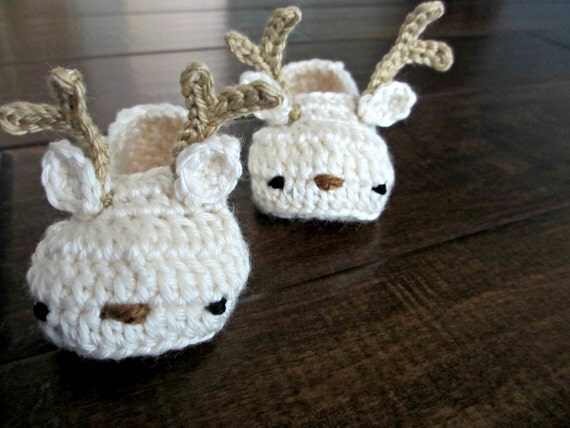 Reindeer booties, crochet shoes, white reindeer, Christmas slippers
It doesn't get any more adorable than snowy reindeer booties! These shoes are hand crocheted just for you! They feature reindeer antlers, ears, eyes, and a nose. The yarn is a luxuriously soft ivory color.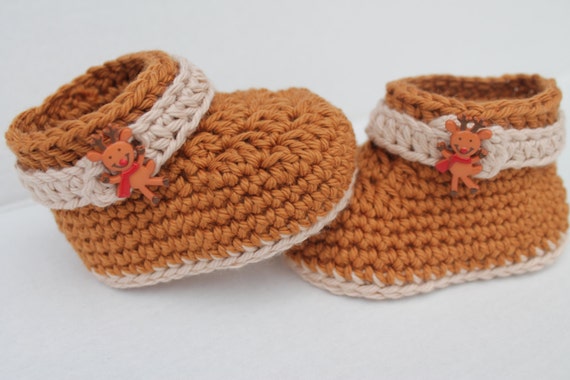 Chrochet Christmas Baby Booties. Reindeer Baby Booties
These adorable buckle boots are sure to get attention whether it's at baby shower or on your little one.
Made with cotton yarn and accented with reindeer buttons.
Size: 0-3 months (3.5″ sole)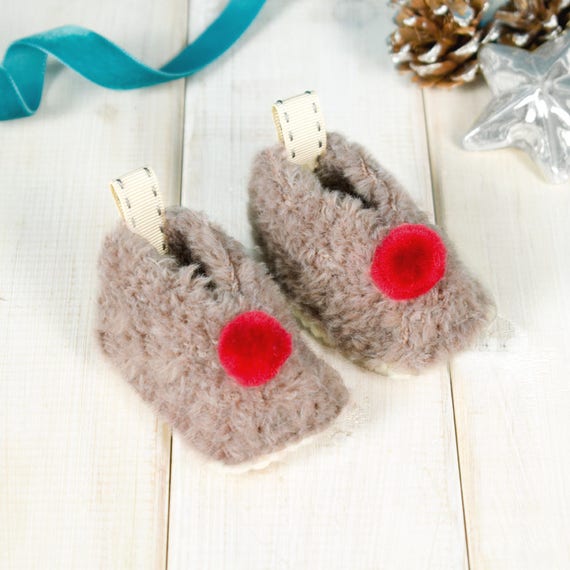 A gorgeous pair of hand knitted, super fluffy and adorable reindeer baby bootie, personalised with your memorable date.
These super soft baby booties are a must for a new baby's first ever outfit!
These personalised Reindeer baby booties would make the perfect keepsake, 'First Christmas' gift for little ones.
Personalise the backs of your booties with the child's first name and a memorable date which could include the year of their first Christmas, or their birth date.
Alternatively personalise the second shoe with another word of your choice.
Each pair of baby booties come with their very own gift box tied up with a piece of wool. Each gift box has a personalised inner lid, perfect for writing a heartfelt message to Mum or to the little one to look back on when they grow up!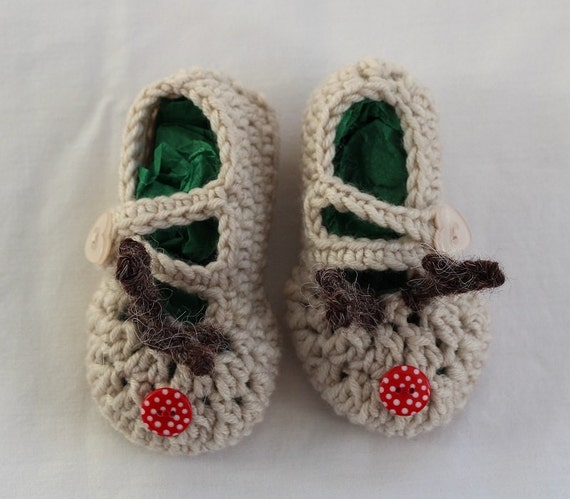 Rudolph the Red Nosed Reindeer baby booties
These teensy booties are just the ticket for a really cute Christmas present!
Made from a super soft 100% merino yarn, these will keep tiny toes toasty warm. The little antlers stand up to attention ( whilst being firmly stitched to the main body of the booties) and the shiny nose – with a choice of polka dot or bright red – adds a seasonal flash of colour.
The booties are double strapped or 'baby-proof' as we like to call it! These should stay on, at least long enough for a photograph! The side fastening buttons are triple stitched and there are no loose parts.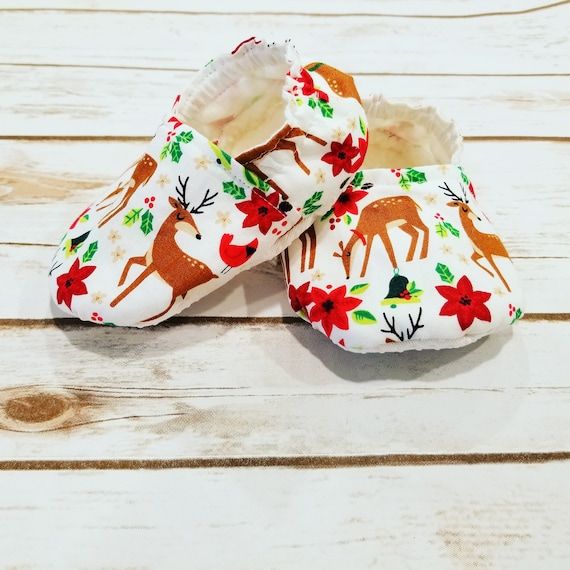 Christmas Baby Booties Christmas Baby Shoes Reindeer Baby Shoes
It isn't too early to get ready for the holidays! These baby booties will look pretty cute on your little one's feet as the cruise in their stroller, crawl, and begin to walk!
When your little one is learning to walk the lightweight baby shoes allows them to learn to walk without the restrictions of a regular shoe. The soft sole of the baby shoes allows them to feel their environment, which is turn helps develop balance and coordination.
They range in size from 0-24 months.
The shoes are made of 100% soft cotton, with an elastic backing that will keep the shoe on your baby's wiggly feet.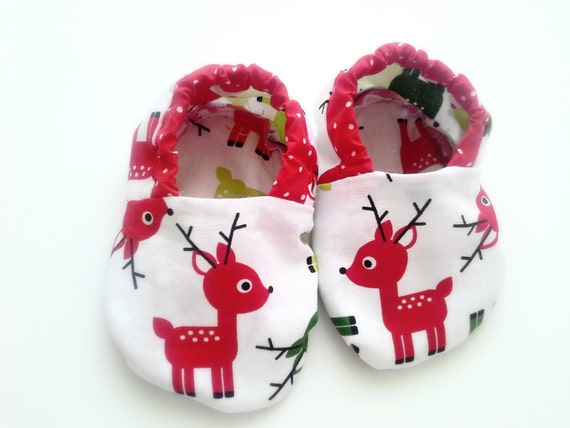 Reindeer,Baby christmas shoes,red and green christmas booties
Vegan, eco-friendly.
✓ Soft soles mimics barefoot giving better grip and balance.
✓ Flexible baby shoes for better foot development.
✓ Easy to wear with elastic ankles.
✓ Stay-on, non-slip.
✓ Perfect for newmoms and newdads with baby carriers and baby slings.
*Select which lining you would prefer in the FABRIC section during checkout*
The inner lining of the shoe can be chosen by you depending on your baby's requirement.
I offer 3 options :
Canvas
Fleece
Sherpa
Canvas – excellent for summer, keeps foot cool and airy.
Fleece & Sherpa – excellent for winter, keeps foot warm and comfortable.
If not specified during checkout I use fleece as the default material.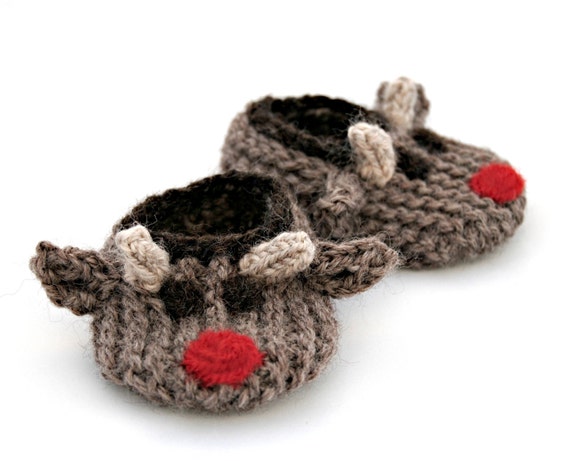 Wool Baby Rudolph Reindeer Slippers, Booties, Crib Shoes
These cute Rudolph the Red Nose Reindeer shoes will go perfect with all of your little one's Holiday outfits, from their Sunday best to their favorite Christmas sweaters. The slippers are handknit in a soft 100% merino wool and gently hand felted for extra softness. The ears and antlers are knit onto the slippers, the eyes and nose are needle felted in place.
Perfect for boys and girls, these make a wonderful gift and keepsake. After this year use them again as ornaments to remember Baby's first Christmas.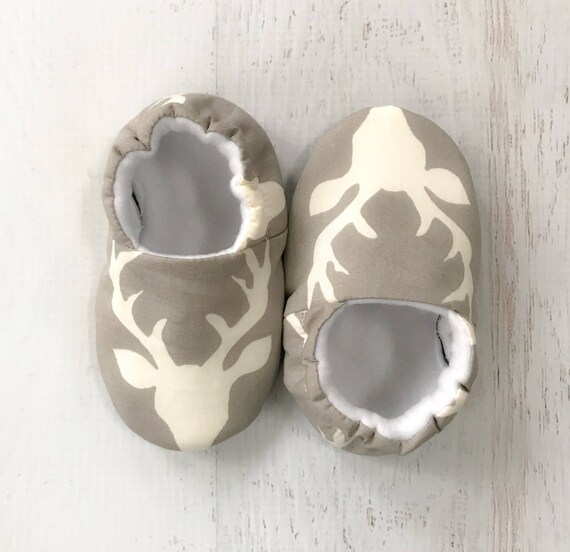 Baby shoes – baby boy shoes – baby girls shoes
These soft baby shoes are perfect for keeping your little ones feet toasty warm! The deer head print is classy and perfect for the season. These shoes are fleece lined and have elastic on the heel to ensure a great fit and "stay-on" ability.
These shoes come in a wide range of sizes. We have Preemie/newborn, 0-6 months, 6-12 months, 12-18 months, 5, 6, 7, 8, 9, 10, 11 and 12. Sizes Preemie and 0-6 months have fabric soles and sizes 6-12 months through size 12 have a faux suede sole.