Are you dreaming of a white Christmas? Welcome your wonderful guests with these adorable White Snowman Christmas Wreaths!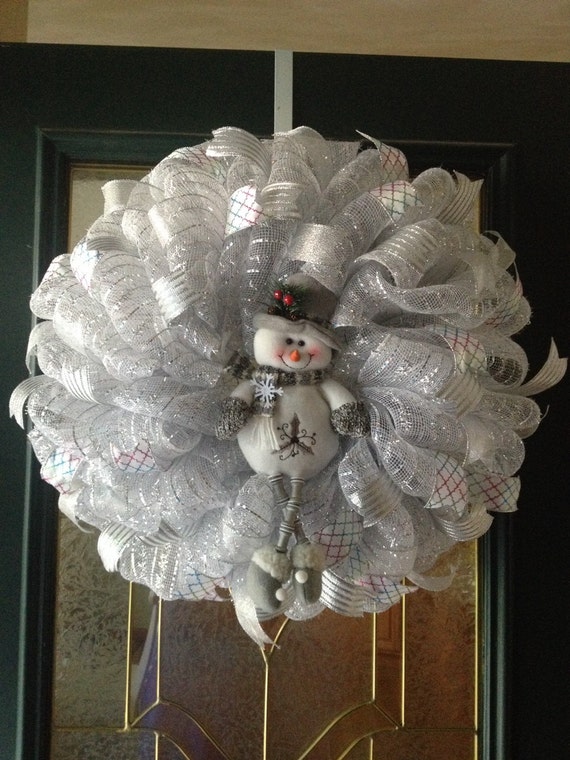 Silver & White Snowman Wreath
If you like silver and white you will love this wreath. It is made on a beautiful silver and white striped mesh with tinsel highlights running through it. It is a very sparkly mesh. The centerpiece is an adorable plush snowman in gray and white. He is surrounded by lots of silver glittered ribbons. There are also accent ribbons with a pale pink, turquoise and lime green glittered pattern. If you prefer these can be removed. Just let me know upon ordering. This wreath measures approximately 24 inches in diameter. What a great way to welcome your family and friends to your home or hang this on any interior wall of your home for a beautiful Winter decoration.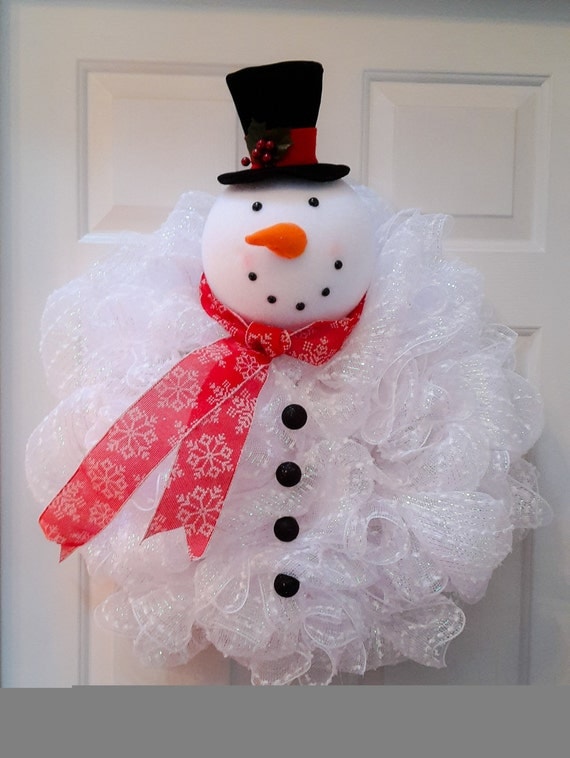 Snowman Wreath, Snowman Mesh Wreath


Snowball Mesh on a wired wreath form. Red snowflake ribbon scarf. Snowman head with black top hat attached to wreath and small black glittered ornaments serve as buttons. Mr. Snowman is ready to greet your guest and is the perfect front door accessory.
Measures 28″ Tall X 25″ Wide
Bottle Cap Tin Snowman Winter Or Christmas Deco Mesh Wreath

New! Large, Premium, Handmade Deco Mesh Winter or Holiday Wreath. Adorable, large, round, tin, bottle cap shaped snowman rests on a bed of pure white deco mesh. This cheery snowman has glittering accents and is checking the mailbox for deliveries. Soft burgundy burlap with glittering sheer snowflake ribbons surround the center. Snowcapped branches and moss green window pane ribbons are added. The outer ring is made of gorgeous white, snowball deco mesh with iridescent lines. Sparkling, iridescent silver flutes and metallic green mesh ribbons are placed along the exterior. It is perfect for the holiday season and all throughout winter. Size is large, 24 inch diameter and 6 inch depth.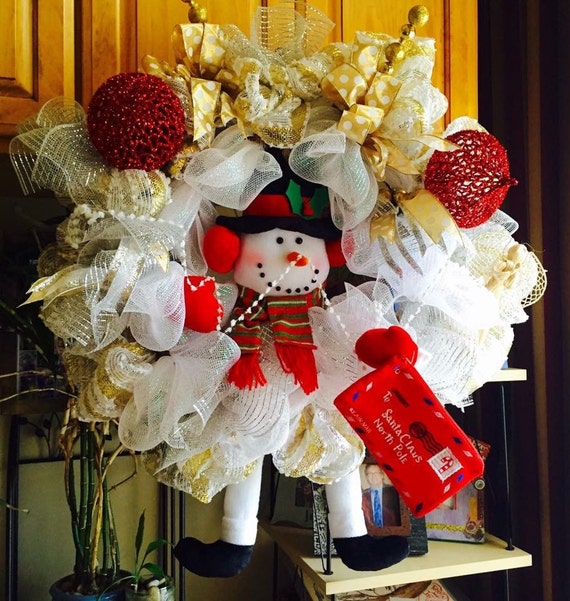 Snowman letters wreath
Snowman letters wreath Handmade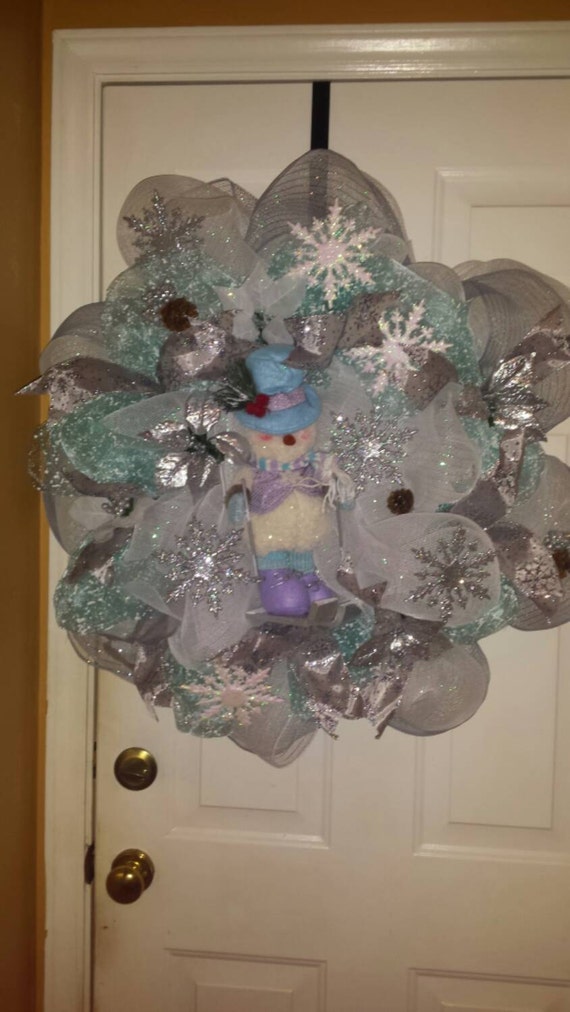 Winter deco mesh wreath
Winter deco mesh wreath. Made to order. Any theme or color available. 28-32 inches.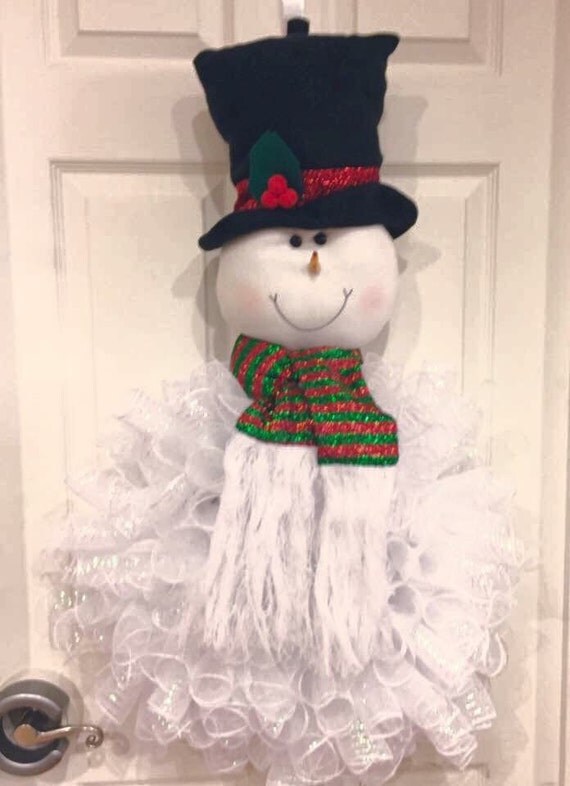 Snowman Wreath
This cute snowman wreath is made on a wire base with white deco mesh. Is approximately 22 to 24 inches and the snowman head straight extends well above the wreath. The true beauty was hard to capture in picture but it is beautiful!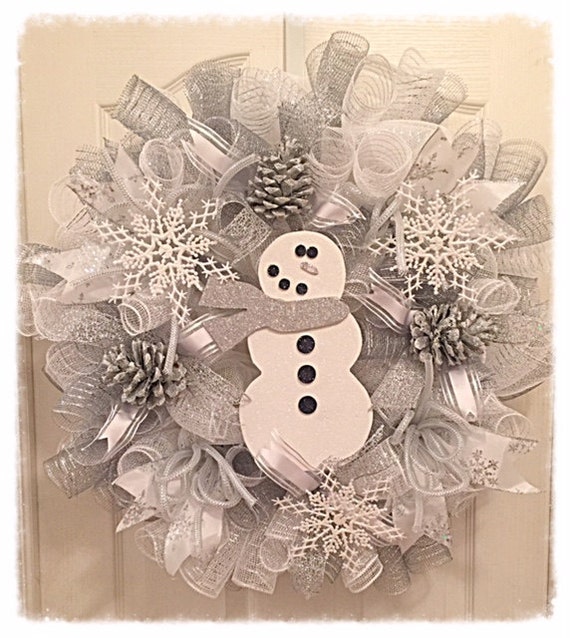 Winter Snowman Snowflake Deco Mesh Wreath
Enjoy the long winter season with this adorable Winter Snowman Snowflake Deco Mesh Wreath hanging on any door in your home.
It shows with high quality metallic white and silver deco mesh.
There are silky snowflake ribbons with white and lacey silver ribbons.
Silver flex tubing with silver glittered pinecone have been placed all around the wreath.
A wooden handcrafted snowman shows in the middle of the wreath. It has been painted and glittered white. The scarf and nose show with silver glitter-so cute!
This wreath measures 25 inches and can ship out within 2 to 4 days after purchase.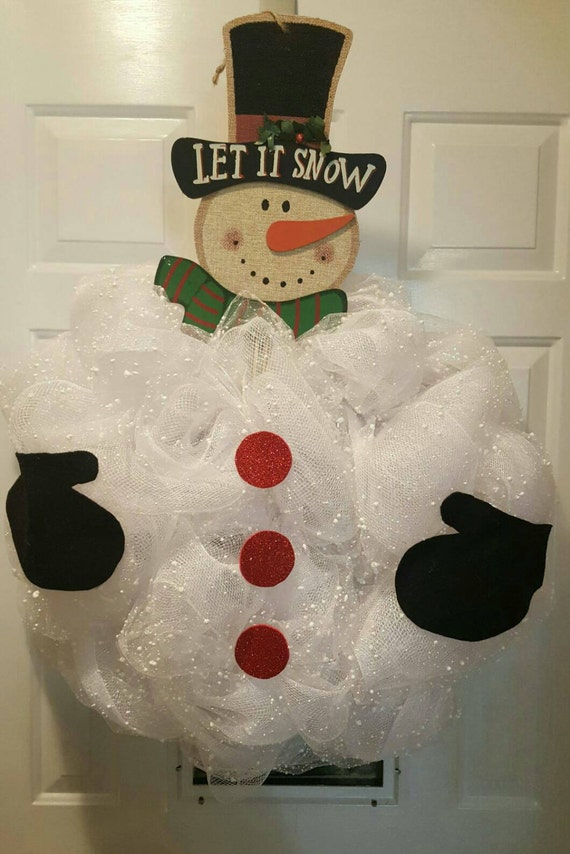 Snowman Wreath
How adorable is this? Snowman can welcome your guest to your house! Perfect Christmas Gift!
Size: ~ 29″/21″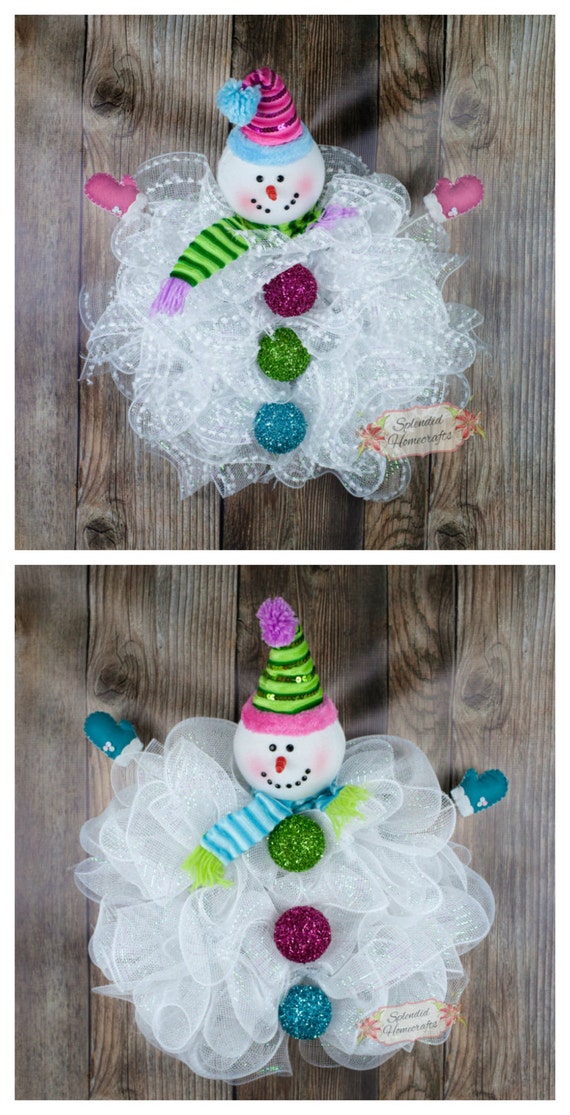 Light up Snowman Wreath
Celebrate this upcoming holiday with these adorable whimsical snowman themed wreaths! ⛄ What a wonderful way to greet your guests!🎄 Perfect for hanging in small spaces or a child's bedroom as these wreaths are just under 20″.
⛄⛄Only one boy (blue mittens) and one girl snowman (pink mittens) wreaths are available.⛄⛄
These adorable wreaths are constructed with snowball white deco mesh (girl) and iridescent white deco mesh (boy).
Accents include:
– Light up snowman head that flashes both pink and bluish colors- battery operated
– 4″ fuzzy metallic ornaments for buttons
– Handmade/hand-sewn felt mitten picks made by Splendid Homecrafts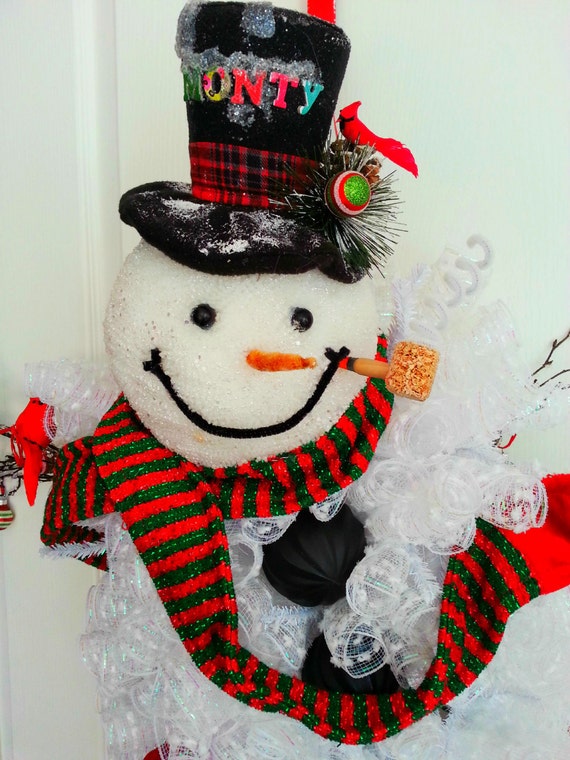 MONTY THE SNOWMAN, snowman wreath, deco mesh snowman
MONTY the SNOWMAN was born in Vermont, hence his parents named him Monty. Welcome the holidays to your front door or interior door with this beautiful, full length, ruffle wreath snowman.
A tall black hat decorated with pine, a pinecone and a cardinal sits on Monty's head and his name is spelled out in country style lettering. You can feel a chill go down your spine when looking at Monty as you see the icy snow dripping down the front of his hat and snow is sitting on the tops of the letters.
You will notice a corn cob pipe set in his mouth and you can see the circles of smoke coming out of the pipe.
Monty is wearing a sparkling red and emerald green scarf that is wrapped around his body. You can just feel the chill of the icy wind.
His twig arms laden with ice, are embellished with some beautiful, small striped and glittered Christmas balls and a cardinal is sitting on one of his arms.
Monty measures approximately 35″ in ht and 39″ in width, measured at the arms.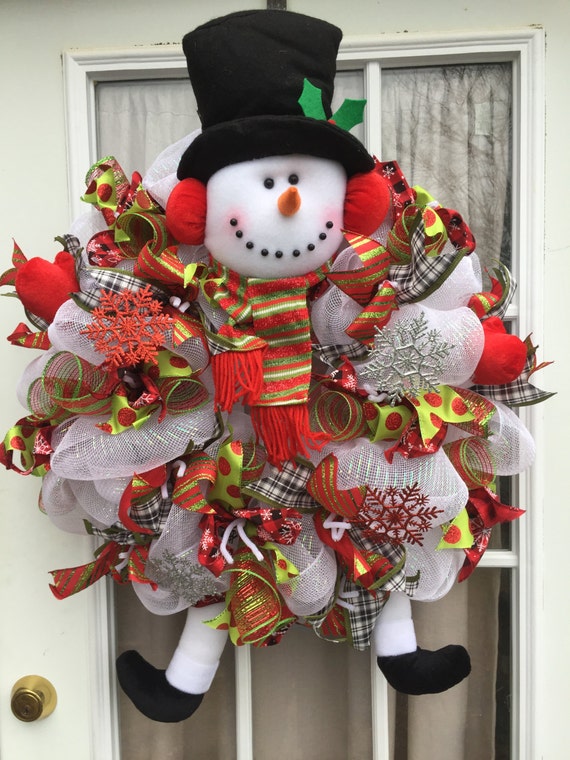 Winter Wreath – Snowman Wreath
This adorable snowman wreath can welcome your guests all winter long or for the Christmas season. This wreath is 24″ x 7″ and is made from white deco mesh with green and red accents. The ribbon is coordinated to match the snowman and adds to the whimsical look of this wreath.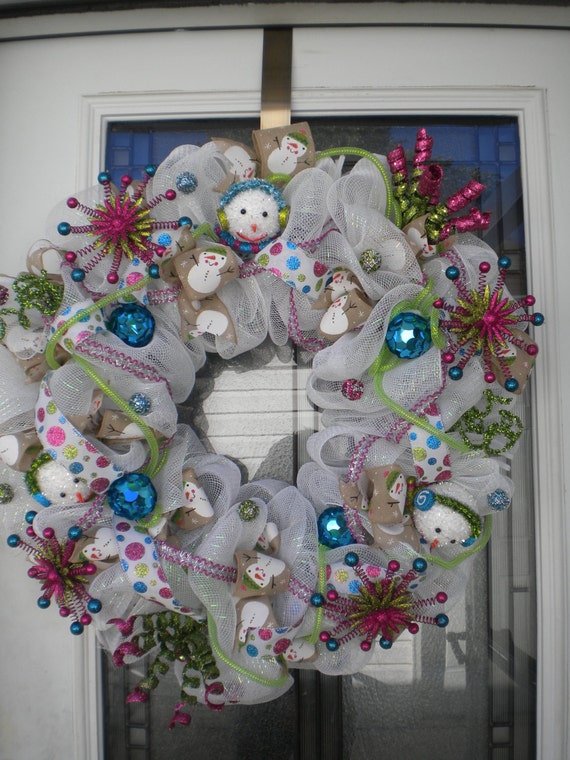 Snowman Deco Mesh Christmas Holiday Wreath


A large bright candy colored deco mesh wreath that is made with white deco mesh, lime green deco mesh tubing, burlap printed snowman ribbon, glitter polka dot ribbon, pink and silver tinsel like ribbon, plus large bright candy colored snowman and snowflake ornaments, holiday picks and other extras sure to put a smile on everyone's face this holiday season.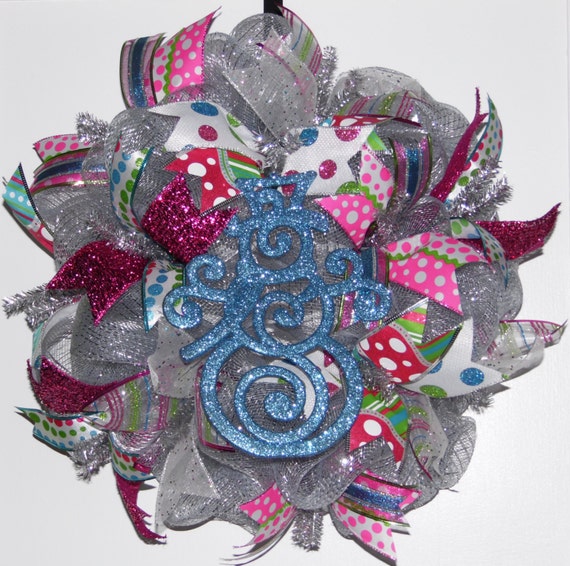 Small – Snowman Wreath
Cute winter time snowman wreath!! Silver, blues and pinks with a sparkling blue snowman center accent.
*Handmade Item
*Custom orders are always welcome!!
*Materials: silver deco mesh, wire edge ribbon, sparkly snowman
*Wreaths Measure: 14″-20″